Aftercare for microneedling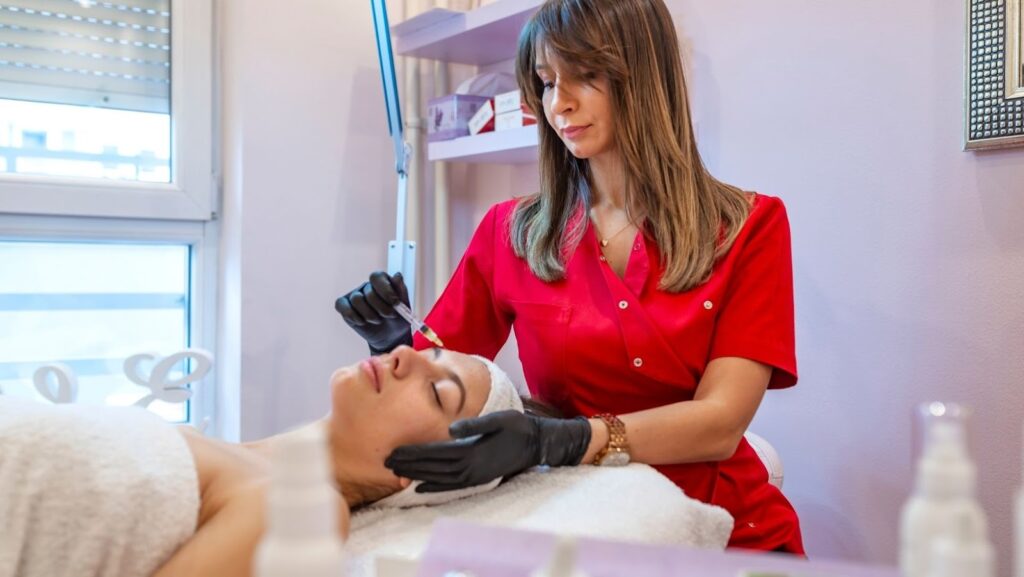 Microneedling is a minimally-invasive treatment option for improving skin tone and texture, treating surface-level scars and wrinkles, and providing other skin benefits. Aftercare is an essential part of the process, which begins directly after the treatment itself. It's important to practise proper post-treatment care for best results and to ensure safe recovery following your microneedling treatment.
How often microneedling
The success of your microneedling experience relies heavily on how well you take care of your skin following the procedure. To ensure that you get the best results from your microneedling experience, it's essential to follow the aftercare tips listed below:
Hydrate – Drinking plenty of water helps keep skin cells hydrated after a session of microneedling, which encourages healing and boosts cells' ability to expel waste (such as bacteria or debris) out of the body while flooding them with oxygen and other necessary nutrients that help boost their energy reserves.
Moisturize – Used in conjunction with hydration, moisturising can help keep skin supple and prevent irritation post-treatment. Applying quality non-comedogenic products such as those containing hyaluronic acid or ceramides on both face and body areas treated with microneedling immediately after showering each day facilitates wound healing while deeply hydrating treated area(s).
Use Sunscreen – Sun exposure dilutes any post-treatment effects from refining creams and serums applied to treat hyperpigmentation or improve texture issues caused by sun damage so it's important to protect treated areas from direct UVA/UVB rays for optimal benefit; look for a product that is mineral based with zinc oxide and provides broad spectrum protection from damaging UV rays i.e., SPF 50 or higher with "UV protection". Reapply sunscreen at least every other hour if outdoors more than 90 minutes per day!
Forgo makeup for 24 hours – After 24 hours makeup may be used on treated area provided it does not offer SPF protection which tends to draw down effects in most cases when used in lieu of a dedicated sunscreen specifically designed for post-procedure use; mineral based products are ideal since they don't contain harsh ingredients often found in traditional foundations/concealers i e silicones or polymers fillers that can cause infection when deep penetration through needles occurs immediately followed by makeup application
Do NOT pick at scabbing – Mild scabbing may occur following your session but extends healing time whenever picked at so paste whatever irritation experienced over several days instead allowing natural exfoliation process nearer end range suggested by Dr utilising dermaroller techniques specifically tapping into deeper layers needing repair/regen vs just superficially; hydration also essential during this period consuming adequate amounts (65 Oz) per day along w calming agents icing regularly during 10 day period best advising against exfoliating outside eye area light flaking residing w washing morning & night w room temp/warm water only
Avoid irritants – Keep away from excessively hot showers; avoid saunas, hot tubs, swimming pools etc until any outward signs fade—which usually signals completion renewal cycle fine tuning needed addressed via another round initial stage strategies allowing deeper access enabling powerful custom peptide enablements beyond early stages achieving better yet more successful therapeutic outcomes
What is Microneedling?
Microneedling is a cosmetic procedure that involves the use of short, fine needles to puncture the skin and create microscopic channels. These channels stimulate the production of collagen, prompting cells to grow new tissue. It can improve the look of wrinkles and acne scars, as well as promote a more even skin tone and texture.
Aftercare is essential in order to achieve the best results from your procedure. Here are some key points to keep in mind:
Cleanse gently: For at least five days post-treatment, avoid using harsh cleansers on your skin – opt for gentle, water-soluble cleansers instead.
Moisturise frequently: Keeping your skin well hydrated is essential for a successful recovery, so make sure to apply hydrating lotions or creams several times throughout the day.
Avoid sunlight: To protect your newly sensitised skin from further damage, use sunscreen every day — even on cloudy days. Wear a wide-brimmed hat when outdoors for added protection against UV rays.
Avoid makeup: For at least one full week after microneedling treatment, avoid using makeup and makeup removers on your face. This will give the wounds time to heal without any unnecessary irritation or contamination from additional products.
By following these simple steps and avoiding activities that may cause irritation or infection after microneedling– such as taking hot baths or using saunas–you can ensure that you will get optimal results from your treatment and achieve beautiful looking skin!
Benefits of Microneedling
Microneedling is a popular cosmetic procedure that involves creating hundreds of tiny punctures in the skin with a device that looks like a dermaroller. It has many benefits, including improving the appearance of fine lines and wrinkles, scarring from surgery or accidents, uneven skin tone, stretch marks and large pores.
Aftercare for microneedling is an important part of successfully achieving the best possible results. Proper aftercare allows for maximum results without any unwanted side effects such as infection or scarring. After the procedure it is important to keep the treated area moisturised, use sunscreen on a daily basis, and protect yourself from harsh ultraviolet (UV) rays while your skin gradually heals itself.
It's also important to be gentle with your skin after undergoing microneedling treatment for the best results – no intense exfoliation until about two weeks after your session. In addition to moisturising regularly, you should also avoid using makeup and dirt-attracting products (such as oil-based cleansers) until your skin has had a chance to heal completely.
Take lukewarm showers instead of hot baths
Avoid excessive sweating
Follow any prescribed medication or cream instructions
Be aware of potential post-treatment complications
Stay hydrated by drinking plenty of water
Finally, be sure to stay hydrated by drinking plenty of water throughout the recovery process– this will help ensure proper healing and maximise long-term results!
Aftercare for Microneedling
Microneedling is a popular skin rejuvenation treatment that can help you achieve a more youthful and radiant appearance. In order to see the best results from your treatment, it's important to take care of your skin post-treatment with the best aftercare for microneedling. Here, we'll go over the best practices you should adhere to in order to get the most out of your treatment.
Cleanse your skin twice daily to remove any dirt or debris that may have built up on your skin during the day.
Avoid harsh cleansers that can strip your skin of its natural oils and cause irritation.
Apply a light moisturiser to keep your skin hydrated and help it heal faster.
Use a gentle exfoliator once or twice a week to help remove dead skin cells and keep your skin looking fresh and healthy.
Stay out of direct sunlight and wear SPF 30+ sunscreen to protect your skin from damaging UV rays.
Avoid picking or peeling at treated areas as this can cause scarring or other damage.
Avoid using any harsh chemicals or abrasive products on your skin, as they can cause further irritation.
Cleanse the Skin
Cleansing: It is important to regularly cleanse your skin after microneedling, as this can help reduce inflammation, prevent infection, and speed up healing. Always use a mild cleanser, and avoid harsh scrubbing or exfoliating products. Gentle cleansing with lukewarm water and a mild face soap can be done on a daily basis, but it is recommended to avoid excessively repeated cleansings of the same area on the same day in order to not compromise skin barrier integrity.
Moisturising: Moisturisers should also be used regularly after microneedling treatment in order to keep skin hydrated, replenished and comfortable. Properly moisturising the skin helps maintain hydration levels and may assist in faster healing times. As part of any moisturising routine for post-microneedling care, apply an antioxidant-rich serum or oil that can fight against damage from oxidants and help protect the skin from inflammation. Some
natural oils
known for their antioxidant impact
are rosehip oil and fractionated coconut oil, both of which may be added to a daily moisturiser or applied separately depending on each person's preferences.
Sunscreen: Sunscreen is particularly important after any sort of injury to the skin – in this case from needles – as it helps protect delicate new layers of skin while they are healing. Sun exposure can cause hyperpigmentation and other wound complications so always make sure you wear an SPF 30+ sunscreen when going out during daylight hours, even if it's cloudy outside!
Apply Moisturizer
Moisturising your skin with a good-quality, gentle moisturiser after microneedling is an important step in preserving healthy skin. Aftercare products such as hyaluronic acid, glycerin, and algae-based serums can help reduce inflammation and help maintain the benefits of your treatment. It is also important to apply sunscreen before going out in the sun. To keep your skin safe, make sure you use an SPF of 30 or higher. Additionally, limit your exposure to direct sunlight during peak hours. Finally, it's strongly advised that you hydrate adequately with plenty of water to support collagen synthesis and improve circulation.
Avoid Sun Exposure
After you have undergone a microneedling procedure, it is essential to avoid sun exposure. Sun exposure can irritate your skin and cause it to become red and inflamed. In some cases, it can even cause further damage. For the best results and to protect your skin from possible damage, taking simple precautions will go a long way towards improving the efficacy of post-microneedling care.
When out in the sun, always wear a hat with a broad brim and make sure to apply sunscreen with an SPF of 30 or higher – no exceptions. Sunscreen should be applied before going out and should be reapplied every two hours as needed. Additionally, wearing protective clothing such as long sleeves and pants can help reduce the exposure of your skin to harmful UV rays while also providing some additional protection against any potential irritation or sensitivity caused by your microneedling treatment.
The importance of avoiding sun exposure after two weeks post-treatment cannot be overstated since this is when there is a peak risk for complications from too much intense heat on the treated area such as discoloration or hyperpigmentation. Additionally, for those who need extra protection due to their specific skin type or medical history consultations with their doctor are strongly recommended.
Always wear a hat with a broad brim
Apply sunscreen with an SPF of 30 or higher
Reapply sunscreen every two hours as needed
Wear protective clothing such as long sleeves and pants
Avoid sun exposure after two weeks post-treatment
Consult with your doctor if needed
Avoid Exfoliants
After receiving microneedling treatment, it is important to follow the aftercare instructions provided by the clinician who performed the procedure. One of the most essential steps in aftercare for microneedling is to avoid exfoliants for at least two weeks afterwards. Any type of exfoliation, such as chemical or physical exfoliant products on a cotton pad, scrubs and brushes, should be completely avoided due to the risk of infection.
Once two weeks have passed following your microneedling procedure, it is wise to slowly reintroduce gentle exfoliants into your skin care routine. AHA or BHA products such as lactic acid, glycolic acid and salicylic acid are generally safe for use when applied in lower concentrations (roughly five percent or below). Similarly, avoid using any abrasive mechanical exfoliators like a facial brush or scrub until your skin has had time to heal (at least four weeks after treatment).
When transitioning back into using exfoliating and/or mechanical face cleansing devices, bear in mind that they should always be used gently without causing too much irritation to the skin.
Follow with an appropriate moisturiser formulated with beneficial ingredients such as hyaluronic acid and ceramides that can help replenish the moisture imbalance caused by exfoliation.
Avoid Makeup
It is important to give microneedling treatments time to take hold and show results. Skin that has been needled may experience temporary redness and irritation, which can make the application of cosmetics difficult.
To get the most from your treatment, avoid makeup for at least 24 hours after your microneedling session. This will help ensure that your pore size reduces effectively and that inflammation decreases properly for best results.
If you must wear makeup in the 24 hours following a microneedling session, opt for non comedogenic formulas to minimise the risk of developing clogged pores or a bacterial infection.
Non Comedogenic formulas prevent buildup in the skin's pores and do not block them as easily as comedogenic formulas do.
Finally, use mineral-based makeup instead of petroleum or silicone-based formulations since they are less likely to cause further irritation to already sensitised skin.
Conclusion
In conclusion, proper aftercare for microneedling is a key factor in assuring the best results. You should practise gentle skin care until healing is complete and avoid over-cleansing, scrubbing, or picking at your skin. Always protect your skin from the sun with a broad-spectrum sunscreen of SPF30 or higher, wear hats when outdoors, and avoid hot and overly humid conditions if possible.
Be sure to follow your treatment provider's instructions precisely to ensure that you are getting the best results and taking care of your skin in the right way. You should also speak with your provider about any further questions or concerns you have about aftercare for microneedling. Taking these precautions will help you to enjoy smoother, brighter-looking skin that's less prone to wrinkles and fine lines.
Practise gentle skin care until healing is complete
Avoid over-cleansing, scrubbing, or picking at your skin
Protect your skin from the sun with a broad-spectrum sunscreen of SPF30 or higher
Wear hats when outdoors
Avoid hot and overly humid conditions if possible
Follow your treatment provider's instructions precisely
Speak with your provider about any further questions or concerns