The Best Time of Day to Apply Eye Cream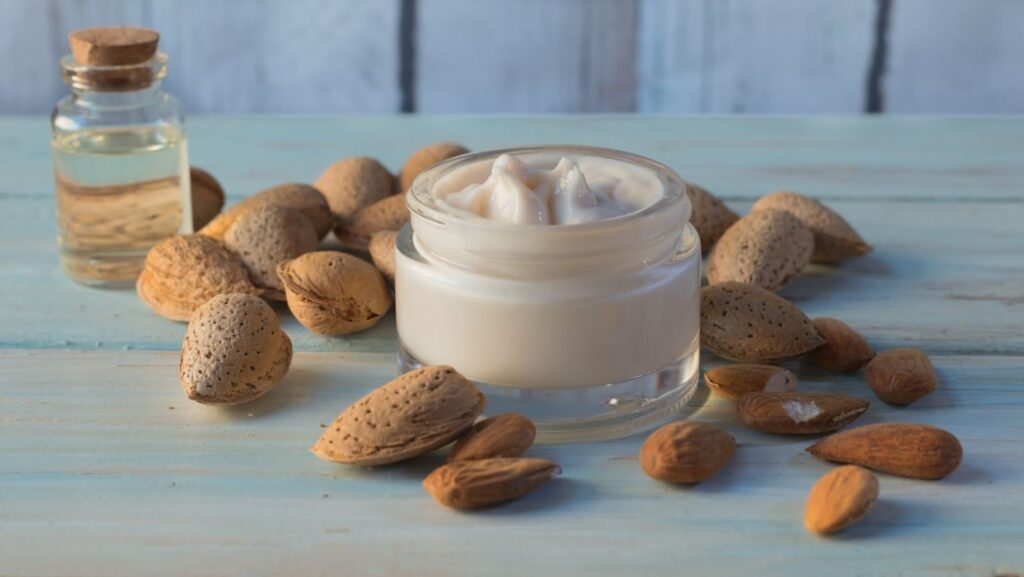 Using an eye cream regularly has many advantages. The primary benefit is its ability to boost hydration and reduce puffiness around the eyes while simultaneously reducing signs of ageing like wrinkles, dark circles and crow's feet. Eye creams tend to be more hydrating than traditional moisturisers, which means they are excellent for sensitive skin and can be helpful in repairing already wrinkled areas around the eyes.
The best time of day to apply eye cream is typically at night before going to bed as this will give your skin time to absorb the product as you sleep.
Applying your eye cream in the morning will ensure it stays hydrated throughout the day and using it both morning and night gives you maximum effect so that you get enhanced results over time.
You should also make sure that when you apply your eye cream you use gentle circular motions with tapping motions around the orbital bone so that it can fully absorb into your skin without pulling or tugging too much on it!
Where do you put eye cream
The ultimate goal when using eye cream is to reduce the signs of ageing around the eyes, but there are several different types of eye cream that all serve different purposes. When looking for an eye cream, it is important to understand the kind of ingredients that each one contains and choose the product that best suits your needs.
The most common types of eye creams are moisturisers, whitening creams, and anti-aging creams. Moisturising eye creams are designed to hydrate and soothe the delicate skin around your eyes and can be used daily or even more frequently for added moisture. Whitening creams can help reduce dark circles under the eyes caused by pigment changes due to sun damage or genetics, while anti-aging creams are formulated with powerful ingredients such as retinol and alpha hydroxy acids in order to target fine lines, wrinkles, and other signs of ageing. It is also important to use sunscreen when using any type of eye cream since they can make your skin more sensitive to UV rays.
Choosing a specific type of eye cream can help you achieve whatever goal you have — whether it's hydrating dry skin or reducing wrinkles — however versatile products are always great options!
When to Apply Eye Cream
Applying eye cream is often a critical step in any skincare routine, but when should you apply eye cream? It is important to consider when to put your eye cream on in order to maximise its effectiveness. In this article, we will discuss the best time of day to apply eye cream and the proper technique for doing so. Let's dive into all you need to know about when to put eye cream on.
Best Time of Day to Apply Eye Cream
Proper Technique for Applying Eye Cream
Morning Routine
It's important to follow a consistent eye cream routine to get the most out of it. For maximum effectiveness, apply your eye cream in the morning and at night, before your moisturiser.
In the morning, start with a clean face and use an alcohol-free toner or cleanser, then apply light-weight eye cream on any dry spots around your eyes. During this step, use light strokes around your orbital bone and avoid rubbing too hard within the delicate eye area.
Apply light-weight moisturiser on top of your eye cream.
Cover the rest of your face with sunscreen that contains SPF 30 or higher if you plan on going outdoors during the day.
Reapply lip balm and more sunscreen throughout the day as needed depending on outdoor activities planned for the day.
Using a vitamin C serum can also be beneficial to help reduce inflammation and brighten up dark under-eye circles.
Evening Routine
When it comes to eye cream, it's best to think of it as part of your evening routine. Applying it at night, when you're winding down from the day, gives its active ingredients ample time to work and fully penetrate the delicate skin around your eyes. Additionally, this step assists in flushing out any toxins that have built up throughout the day and helps keep your eye area hydrated during sleep.
It's important to apply eye cream gently and sparingly — using too much can irritate your delicate skin. Make sure to start at the outer corner of the eyes and draw a circle around each eye until you reach the inner corners. Use only a very small amount (about a pearl-size) of eye cream and use your ring finger or two middle fingers to tap in lightly around the orbital bone until completely absorbed. You can also swipe any extra product left on your fingers over your brow bone for added hydration; just make sure not to get too close towards or directly onto the lash line since this will lead to clogged pores which can cause breakouts over time.
Bedtime Routine
Eye creams can be used any time of the day but it is best to apply eye cream as part of your nightly routine. This allows time for the cream to absorb and work its magic while you rest. Additionally, your body naturally produces less cortisol — a hormone linked to inflammation — when you sleep, making your eye area more receptive to active ingredients.
At bedtime, begin by gently cleansing your face with a mild cleanser and patting dry with a soft towel. Next, tone the skin around your eyes by using an alcohol-free formulation or applying witch hazel on a cotton pad. Then, use a small amount of eye cream on the pads of your fingertips and pat lightly under and around the eyes until it is absorbed.
The active ingredients in most eye creams include antioxidants and other nutrients that are important for maintaining healthy skin cells around the eyes, reducing puffiness and dark circles, smoothing wrinkles and fine lines over time, firmness in appearance and hydrating delicate skin layers. Make sure you look out for these active ingredients when choosing an eye cream product so that it will best suit your needs.
Finally, some people like to follow up their bedtime routine by applying an occlusive moisturiser such as petroleum jelly or castor oil on top of their night cream or eye cream application — this helps seal in all the moisture applied to keep skin hydrated throughout the night!
How to Apply Eye Cream
Properly applying eye cream is essential to seeing maximum results. The best time of day to apply eye cream varies depending on the ingredients in the product, but in general, it's best to apply it in the evening before going to bed. Applying eye cream before bed helps lock in moisture and also allows your skin to work overnight to repair itself. Let's discuss the different ways to apply eye cream so that you can make sure you're doing it correctly.
Cleanse your face before applying eye cream to remove dirt, oil, and any makeup.
Gently dab the eye cream around the delicate eye area, avoiding the eyelids.
Massage the cream in a circular motion to help it absorb into your skin.
Use your ring finger to apply the cream as it's the weakest finger and will be gentle around the eye area.
For further protection, try using an eye cream with SPF for daytime use. Doing this will help protect the delicate skin around your eyes from the sun's harsh rays.
Preparation
Before you apply eye cream, it is important to properly prepare the area.
Wash your hands and, if possible, remove all makeup from the face with a gentle cleanser.
Then use warm water to rinse away the cleanser. This will help ensure that your eye cream does not transfer bacteria or contaminate your skin with unnecessary debris.
To open pores and get the full benefit of nutrients in the cream, you can also briefly steam your face by placing a hot damp washcloth over it.
Finally, pat skin dry with a clean towel before applying any product around your eyes.
Application
Eye cream should ideally be applied twice a day as part of your skin care routine: once in the morning and again at night. Generally, apply eye cream right after cleansing and toning, but before moisturising.
Using the pad of your ring finger, gently pat the eye cream on the bone surrounding your eye area. Concealer and foundation can then be applied over top of any remaining residue. Be sure to avoid getting eye cream / makeup close to your eyes! Eye creams are specifically designed to protect this delicate area, which means they contain heavier ingredients that can drag or migrate into your eyes and cause irritation.
When applying eye cream during the day, look for products that contain an SPF for added protection against damaging UV rays — arm yourself with a sunscreen formulated just for use around the eyes too. A daytime moisturiser with at least SPF 15 is usually sufficient against everyday exposure. On no-makeup days or over a night cream in lieu of moisturiser, wear a wide brimmed hat to block direct UV rays whenever possible.
Tips for Applying Eye Cream
Applying eye cream is an important part of any beauty routine. Eye cream can help keep the delicate skin around the eyes moisturised, reduce puffiness and wrinkles, and even help lighten dark circles. But, if you're unsure of the best time of day to apply eye cream, you're not alone.
In this article, we'll provide tips and advice on where you should put eye cream and the best time of day to do so:
Morning: Choose a lightweight eye cream and apply it in the morning as part of your daily skin care routine.
Night: When you're ready to go to bed, opt for a heavier cream and apply it around the eye area before you go to sleep.
Start from the Outside
When applying eye cream, start from the outside and work your way in. Starting from the outer corner of the eye, apply a small amount of cream by gently patting it in with your ring finger. This should be done in gentle dabbing motions, as opposed to rubbing motions which can make under eye bags look even worse.
Next, move toward the inner corner of the eye to ensure full coverage, once again using gentle patting motions. Be sure not to tug or pull too hard on that delicate tissue!
Finally, apply any remaining product by quietly tapping it onto the eyelids and eyelash line. This helps prevent any creases or wrinkles that can occur when too much pressure is applied while rubbing in the product. Utilising these three basic steps will provide you with maximum coverage and optimal absorption of your favourite eye cream without causing irritation or discomfort to sensitive skin.
Avoid Rubbing
Using the right amount of eye cream is an essential step in maintaining youthful, healthy-looking skin. When applying eye cream, it is important to keep in mind that using too much of the cream and rubbing or tugging at the delicate skin around your eyes can cause wrinkles to form. Therefore, it is best to dab a small amount of eye cream onto your skin and gently pat it into your skin with your ring finger rather than rubbing it into the area.
Additionally, to get the best results from your eye cream you should always apply it on freshly cleansed skin. Cleansing will help ensure that all traces of makeup and dirt are removed from the surface of your skin which will then allow better penetration for hydration and nutrition provided by the eye cream.
Always cleanse your skin before applying eye cream.
Gently pat the eye cream into your skin with your ring finger.
Avoid getting any of the product in or near your eyes.
Lastly, remember to always speak with a dermatologist if you have questions about applying any type of product to sensitive areas around your eyes.
Use Light Pressure
When applying eye cream, it is important to use light pressure on the area surrounding your eyes. This helps to ensure that delicate skin does not stretch or become damaged from rough or overly aggressive rubbing.
To apply eye cream, take a small amount on your ring finger and lightly pat it in until the formulation absorbs into the skin. Avoid pulling along the skin and never press too hard when applying around this sensitive area.
Take a small amount on your ring finger.
Lightly pat it in until the formulation absorbs into the skin.
Avoid pulling along the skin.
Never press too hard when applying around this sensitive area.
Once absorbed, you may choose to follow with the moisturiser of your choice for extra hydration.
Conclusion
In conclusion, the best time of day to apply eye cream is at night. Applying eye cream at night allows the product to sink into the skin and be more effective. Additionally, it will provide a nourishing layer of moisture and protection through the night and into the morning.
Make sure you also use an eye cream in the morning, as this will help to lock in moisture and keep your eye area looking hydrated and refreshed.
Summary of Best Time to Apply Eye Cream
The best time to apply eye cream is right before bed, as soon as you have washed and dried your face. Applying eye cream while skin is still slightly damp will allow the product to be better absorbed so your skin can reap the maximum benefits.
Some people may also find success by applying eye cream in the morning, prior to makeup application. This will help keep makeup from settling into wrinkles and make skin look bright and youthful all day. Make sure to let the eye cream absorb completely before you apply any other product on your skin or eyes.
Eye creams are highly concentrated formulas that are designed for use around the delicate periocular area of your neck and face, so avoid using them elsewhere on your body (unless specifically stated for other areas).
When using an eye cream, it is important to remember a few tips such as not rubbing or pulling too hard on this sensitive area; this may cause wrinkles or lines in the long term.
Also, remember not to get too much product on your hands before applying it to avoid contamination of the product; this will reduce its beneficial effects over a period of time.
Finally, always take into account the expiration date of products when using them on a regular basis, in order to get the best results from these products while also keeping safety in mind!
Final Thoughts
It's important to remember that the timing of when you apply eye cream matters. If you are only using it at night, you're missing out on an important protection time – the morning. Applying an eye cream twice a day helps to provide your skin with the best defence against environmental factors and ageing.
Remember also that both an effective night cream and morning-applied eye cream is important for a comprehensive approach to skin care that focuses on caring for your skin during all times of day. Investing in quality products with natural ingredients delivers the most benefit when applied properly — both during the day and at night — to help keep delicate eye area skin looking its best.