Health benefits of niacin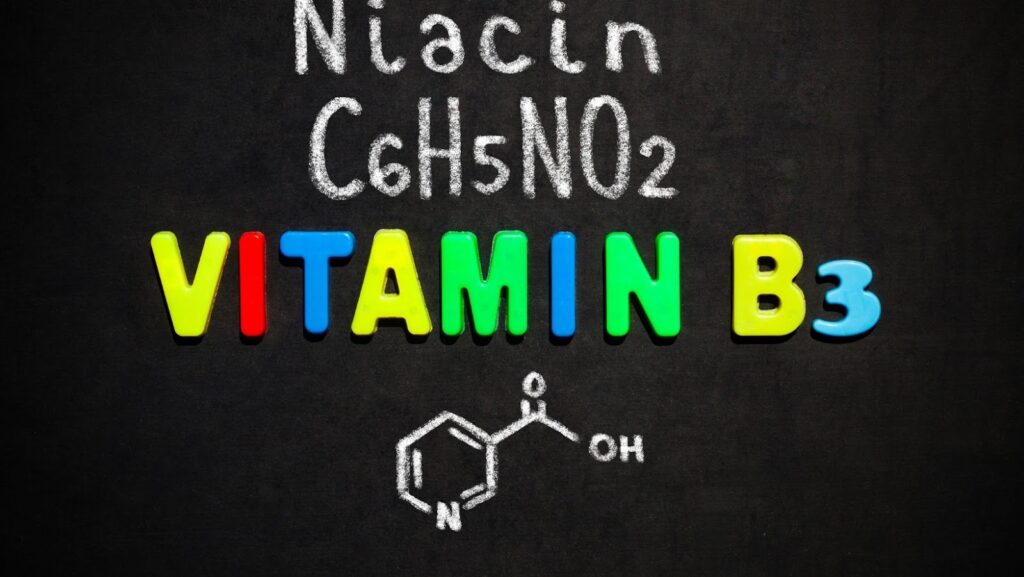 Niacin, also known as vitamin B3, is an essential micronutrient required for a variety of physiological functions. These include energy metabolism, digestion and proper functioning of the nervous system. It is found in many foods, such as fish, cereal grains and organ meats, but can also be taken as supplements.The National Institute of Health (NIH) recognized niacin's important role in numerous bodily processes, which earned it its designation as an essential nutrient. Niacin's health benefits are vast, with potential uses ranging from treating diabetes to controlling cholesterol levels. Additionally, it has been shown to have anti-aging properties.
Where to buy niacin
Niacin, also known as Vitamin B3, is an essential nutrient for humans. It has a number of benefits and can be found naturally in foods such as fish, chicken, and nuts. However, if you want to supplement your diet with niacin, you may be wondering where to buy it. In this article, we will explore the different options for purchasing niacin and explain the advantages of each.
Online
Online shopping has made accessing a variety of different health supplements that include niacin much easier. When searching online for where to buy niacin, it's important to do your research and find the best quality supplement and product for you. Be sure to read customer reviews and look at credible sites to ensure you are getting the right supplement for your needs.
Below are some top trusted sites when looking to buy niacin online:
-Amazon
-eVitamins
-iHerb
-Puritan's Pride
-Walmart
-GNC
-CVS Pharmacy
-Lucky Vitamin
-Vitamin Life
Before purchasing any health supplement, including niacin, be sure to research any potential side effects or drug interactions associated with its use and talk to an experienced healthcare professional.
Niacin is generally safe to consume in moderation; however, large doses may cause adverse side effects or even toxicity. Therefore it is important to consult a registered nutritionist before taking large doses of niacin supplements or any other kind of health supplement for that matter. Similarly, pregnant women should consult their doctors before introducing any kind of supplement into their diets.
If you are looking for where to buy niacin supplements then you can consider purchasing niacin from local natural health stores or health-oriented supermarkets where they offer a variety of vitamin and mineral supplements.
 You can also buy niacin online through reputable manufacturers and retailers such as Amazon and iHerb who offer high quality products at competitive prices.
What is Niacin?
Niacin is a form of vitamin B3 found naturally in foods such as poultry, fish, nuts, and fortified grains and cereals. It can also be purchased in supplement form. Niacin has been associated with various health benefits, including improved cardiovascular health and better glucose tolerance. This article will explore the different benefits of niacin and where you can buy it.
Sources of Niacin
Niacin, also known as vitamin B3, is an essential nutrient for several key functions in the body, including helping the body produce energy and maintaining healthy cholesterol levels. Niacin has many benefits, such as reducing inflammation, improving circulation and regulating blood sugar levels.
While there are several dietary sources of niacin, it is wise to supplement your diet with niacin if you do not get enough from food. Here are some of the primary sources from which you can purchase niacin:
-Food: Dietary sources of niacin include eggs, milk, beans, nuts and fortified cereals.
-Vitamin B3 supplements: Niacin supplements come in a variety of forms. The most common are capsules or tablets containing Nicotinamide or Nicotinic Acid.
-Topical creams: Niacin cream is used to treat skin conditions like rosacea or acne that could be a result of deficiencies in vitamin B3.
-Skin patches: Niacin patches are available to improve circulation and help reduce muscle pain after exercise due to poor blood flow.
Health Benefits of Niacin
Niacin, also known as Vitamin B3, has many health benefits that can help improve your overall health and wellbeing. Niacin is an essential nutrient that can be found in a variety of foods, such as poultry, fish, and fortified bread and cereal products. You can also purchase niacin in supplement form, which makes it an affordable and convenient way to get the health benefits of niacin. In this article, we will discuss the health benefits of niacin and where you can buy it.
Improves Digestion
Niacin (also known as vitamin B3) has become increasingly popular in the health community due to its numerous beneficial effects. Niacin is a water-soluble vitamin found in various foods, such as meat, poultry, fish, nuts, grains, and legumes. It plays an important role in many bodily functions including digestion.
Niacin helps to improve digestion by increasing the production of acids and enzymes used to break down food. Studies have shown that taking niacin can promote the absorption of vitamins and minerals from food while also aiding in the elimination of toxins from body tissues. Niacin increases the production of stomach acid which helps to break down proteins and other complex molecules that would otherwise be indigestible.
Additionally, niacin facilitates increased blood flow to the digestive tract thus providing additional oxygen support during metabolism and improving waste removal from bowel movements. Niacin also strengthens capillaries which leads to better nutrient delivery for digestive organs like the pancreas which produces enzymes for digestion; and the liver which metabolises fats and other nutrients. Therefore improving digestion may help prevent gastrointestinal issues such as irritable bowel syndrome (IBS), peptic ulcers, gastritis, constipation/diarrhoea and more.
Where To Buy Niacin: Niacin can be purchased over-the-counter at any drug or health store or online through reputable retailers like Amazon or Walgreens. When deciding where to buy niacin it is important to ensure that you are buying a product with high purity standards that is verified for potency by quality laboratories in accordance with Good Manufacturing Practices (GMP). This will help guarantee safety and efficacy when it comes to quality control including purity testing on ingredients used in production processes as well as quality potency testing on finished products before distribution.
Lowers Cholesterol
Niacin, or vitamin B3, is a water-soluble B vitamin that plays an important role in the body's metabolism and helps convert food into energy. It is also known for its ability to lower cholesterol levels. Niacin has been used to treat high cholesterol for many years, and research has shown that it can reduce low-density lipoprotein (LDL) levels by up to 30%. It can also raise levels of high-density lipoprotein (HDL), which is considered beneficial cholesterol.
Studies have shown that taking at least 3 grams of niacin daily can lower LDL levels by up to 15%, while higher doses of 6–15 grams a day can reduce total and LDL cholesterol by up to 25%. According to the American Heart Association, higher doses may be needed but they should only be taken under strict supervision of a doctor.
In addition to its ability to lower cholesterol, niacin may also offer other potential health benefits such as reducing inflammation and improving circulation throughout the body. It has also been studied for its potential use as a natural anxiety treatment or antidepressant; however, more research needs to be done in these areas before any conclusions can be drawn. Niacin is widely available over the counter in both tablet form and as food supplements.
Boosts Metabolism
Niacin, or vitamin B3, is a water-soluble nutrient that the body needs to produce energy from the food we eat and to maintain healthy cells. It has been studied for its ability to reduce high cholesterol levels and raise good cholesterol levels in the blood, as well as its potential cancer-fighting properties. It's also known for its ability to boost metabolism.
Niacin is essential for converting food into energy, and increasing your intake of it can have positive effects on your metabolism. In addition to aiding in the production of energy, niacin helps the body process fats more efficiently, making it easier to burn fat faster. Studies have also shown that niacin helps reduce fatigue during exercise and improve endurance.
You can increase your intake of niacin by foods like chicken breasts, beef liver, peanuts and salmon. Or you can get a supplement from a health food store or vitamin shop. Look for products with niacinamide rather than nicotinic acid for a milder dose with twice the absorption rate — about 30 percent higher than nicotinic acid — ensuring more of it gets into your system where it can do you more good!
Reduces Risk of Heart Disease
Niacin (nicotinic acid) is an essential water-soluble vitamin, commonly consumed as part of a multivitamin or over the counter supplements. Niacin has been long known for its role in cardiovascular health. Studies suggest that niacin can reduce levels of triglycerides, low-density lipoproteins (LDL or "bad cholesterol"), and high-density lipoproteins (HDL or "good cholesterol"). Research has also suggested that niacin can reduce the risk of stroke as well as heart attack in individuals with high cholesterol or triglycerides levels.
Niacin contributes to heart health by activating a molecule called nicotinamide adenine dinucleotide (NAD). NAD is important for helping our bodies use energy more efficiently and produces nitric oxide, an important messenger molecule involved in most aspects of cardiovascular health. In addition to reducing the risk of heart disease, research has shown that niacin may also help to reduce inflammation in our bodies, which is associated with chronic diseases such as diabetes and cancer.
It is important to consult with a healthcare provider before beginning supplementation with niacin as it can cause side effects such as facial flushing, itching, sweating and nausea. Additionally, due to potential interactions with medications you are taking now it's important not to take them together without your doctor's knowledge and approval. Niacin can be found in food sources including dairy products, green leafy vegetables and lean red meat – but for therapeutic use the doses recommended exceed what can be obtained from food sources alone so supplementation may be necessary.
Side Effects of Niacin
Niacin is a B vitamin that can provide many health benefits as it helps in digestion, muscle function, and the production of hormones. However, like with any supplement, there can be potential side effects if taken excessively or without proper guidance. Let's take a look at the side effects of niacin, and where to buy it safely.
Flushing
Niacin, also known as Vitamin B3, is often taken in supplement form to help lower cholesterol and improve other aspects of heart health. It is also found in many foods including fish, poultry, beef and yeast extracts. While niacin has many health benefits, it can have some uncomfortable side effects such as causing a flushing sensation.
Flushing is an inflammation of the blood vessels caused by a sudden increase in blood flow to the skin. When niacin is taken in large doses, flushing can occur due to the sudden surge in blood vessel dilation. It manifests itself as a redness and burning sensation on the skin that lasts from between 5-60 minutes after taking it. Flushing can be avoided by administering niacin at small doses throughout the day or taking medications designed specifically with flushing prevention in mind. Additionally, taking aspirin or ibuprofen before ingesting large quantities of niacin may help alleviate any potential discomfort caused by its side effects.
Aside from flushing, other possible side effects associated with niacin include headaches, nausea, vomiting and abdominal pain. To avoid adverse reactions to niacin supplements it's best to always follow packaged dosage instructions carefully and talk to your doctor if needed when considering taking higher than recommended doses or wanting more information on where to buy niacin supplements safely online or locally at a drugstore .
Nausea
Nausea is a common possible side effect of taking niacin. Those taking higher doses may be more likely to experience this unpleasant symptom. People who are sensitive to niacin should talk to their doctor about taking a lower dose or exploring other treatment options. In general, the nausea associated with niacin is considered mild and will often go away once the body adjusts to the supplement.
Liver Damage
Side effects associated with niacin include an uncomfortable warm, burning sensation known as "niacin flush". This is a harmless condition caused by the release of histamine and is normally short-lived. However, more serious side effects can occur when large doses of niacin are taken for prolonged periods of time. These side effects include liver damage, dizziness, nausea and vomiting.
High doses can also cause ulcers in the intestines resulting in abdominal pain and diarrhoea. Additionally, high amounts of niacin can cause edema (swelling) especially in the hands and feet, pancreatitis (inflammation of the pancreas) and vitiligo (patches of white discoloration on the skin). Niacin may also interact unfavourably with some medications. Therefore, it is important to consult your physician before taking high doses of niacin supplements or any other form medications or vitamins that contain niacin.
Recommended Dosage
Niacin is a B-vitamin that is naturally present in food and available as a supplement. It has several essential functions, such as helping to convert food into energy and maintaining healthy cholesterol levels. The recommended amount of niacin to take depends on age, gender and other factors.
For adults 19 years and older, the Recommended Dietary Allowance (RDA) for niacin is 16 milligrams (mg) per day for men, while the RDA is 14 mg per day for women. However, higher doses may be necessary to help with specific health conditions or if advised by your healthcare provider.
As directed by your doctor, some people require much higher doses of niacin compared with the general population – up to 100 times more than the RDA – depending on consultation with your physician. This dosing schedule should never be attempted without medical supervision due to potential serious side effects.
You can buy niacin supplements both online and at local brick-and-mortar stores like pharmacies or health food retailers. It's important to read labels carefully so that you can choose a product that meets your needs and dietary preferences if you decide to take a supplement instead of getting it from foods alone – this will ensure the correct dosage strength for you personally.
In Stores
Niacin, or vitamin B3, is an essential vitamin your body needs to break down food and convert it into energy. It also helps maintain healthy skin, nerves and digestion. Niacin can be obtained from a variety of food sources, but if your diet does not include enough of these foods you may want to consider supplementing with niacin. Niacin supplements are readily available in stores in various forms including tablets, capsules and powders. There are different forms of niacin supplements, such as nicotinic acid, niacinamide (also known as nicotinamide), and inositol hexanicotinate (IHN).
Regardless of which form you choose to buy, read the label carefully before purchasing. Many products will contain additives such as flushing agents that can cause facial skin redness or other adverse reactions if taken in large doses. It is best to consult a healthcare professional before taking any supplement or changing your diet to ensure that it is suitable for you.
Conclusion
Niacin, or vitamin B3, is an essential nutrient for health. It can be found in natural sources such as whole grains, vegetables, legumes and meats. Taking supplemental niacin may benefit people who are deficient in this vitamin or at risk for cardiovascular disease. However, potential side effects from too much niacin warrant a discussion with your doctor or health care provider to determine the right dosage for you.
Those interested in taking niacin should talk with their health care provider to determine the most appropriate form and dosage.< Niacin supplements can be purchased over-the-counter at drug stores and online retailers without a prescription. Many dietary supplements come in the form of tablets, capsules and liquids that can be taken orally. There are also cosmetic products available that contain niacin like topical creams and gels that have been used to treat acne, although more research is needed to confirm the effectiveness of these topical therapies.