The Different Microneedling Techniques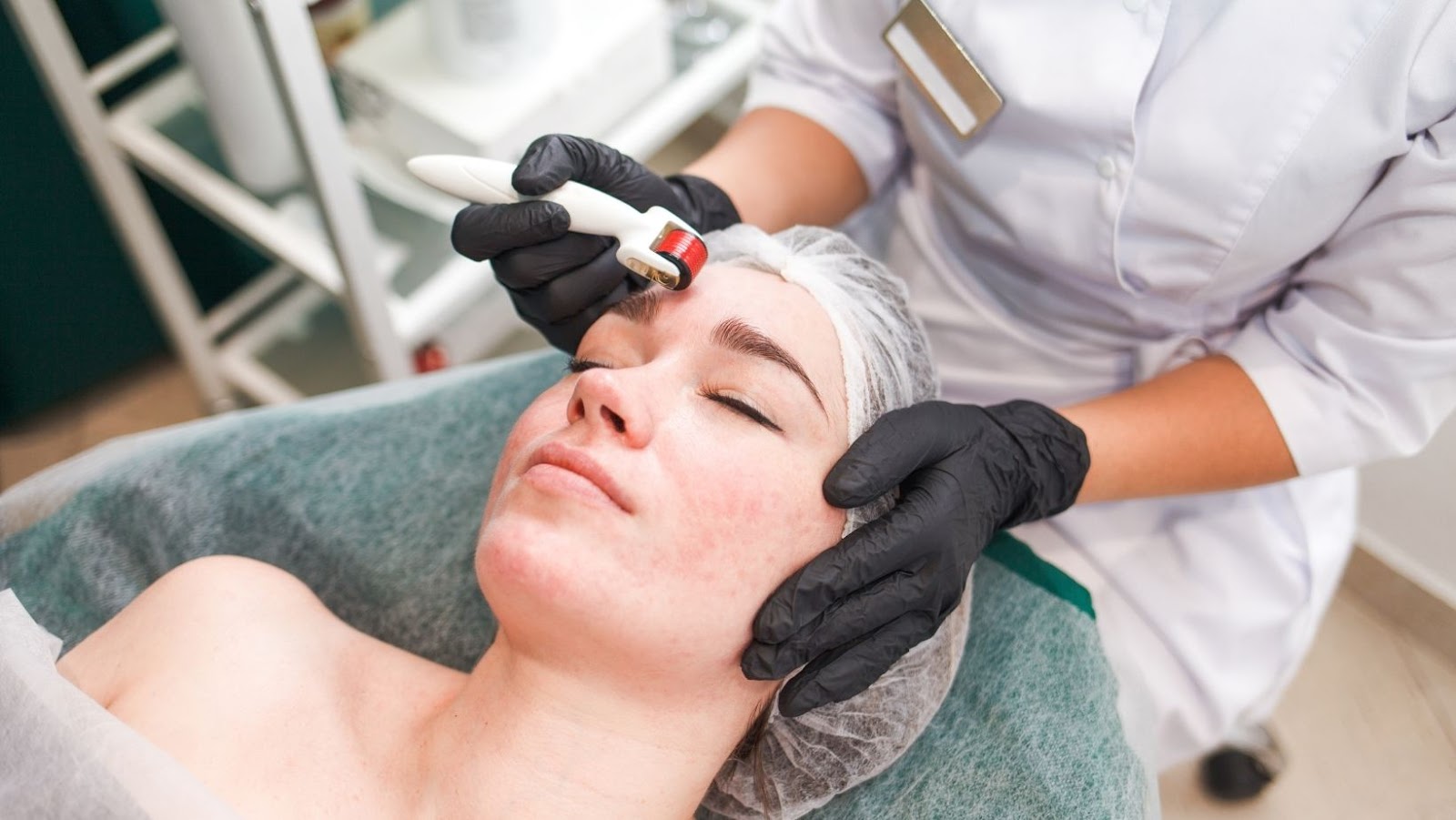 Microneedling is a popular skincare technique that involves using tiny needles to puncture the skin and stimulate the production of collagen. It is done to treat ageing skin, acne scars, and other skin conditions. The procedure is generally considered to be safe, but it is important to do your research to determine how often you should get microneedling treatments.
How often should you get microneedling
In this article, we'll look at the different techniques used in microneedling and discuss how often you should get the procedure.
What is Microneedling?
Microneedling is a minimally-invasive procedure that uses fine needles to create tiny punctures in the skin. It is typically used to treat various skin issues, such as wrinkles, lines, scars, and areas of discoloration. The practitioner gently glides the device across the affected areas of the skin in order to create a 'controlled injury' which encourages collagen and elastin production and promotes rejuvenation.
Microneedling is a popular and effective procedure for many people. Some areas of the face may require more treatments than others in order to achieve desired results. Depending on your needs, treatment sessions can occur from 1-4 times per year with each session taking anywhere from 10 minutes to an hour depending on the size of the area treated. Additionally, there are several different microneedling techniques that your provider can choose based on their experience and your unique needs. This includes:
Traditional Microneedling – using a microneedling device that has small shallow needles which are used to puncture small holes into the top layer of skin tissue; this technique has been shown to improve overall texture by reducing wrinkles, tightening pores and promoting collagen stimulation while still being gentle on all types of skin.
Radiofrequency Microneedling – combines traditional microneedling with radiofrequency energy; it helps stimulate dermal remodelling by encouraging cell metabolism which leads to an increased production of collagen resulting in smoother and younger looking skin.
Dermal Stamping – use disposable stainless steel stamps with micro-needles that are pushed into the dermis at different angles for an improved overall outcome in less time than microneedle rollers; often used when treating scars or wrinkles caused by sun exposure.
Benefits of Microneedling
Microneedling is a popular cosmetic procedure designed to improve skin texture, tone, and overall appearance. It uses tiny needles to create microscopic "injuries" that stimulate the body's natural healing process. As the body repairs these injuries, the skin is typically left smoother, more toned, and ravaged with fewer visible signs of ageing. This type of treatment is generally used for scars or wrinkles resulting from sun damage, acne or previous surgeries.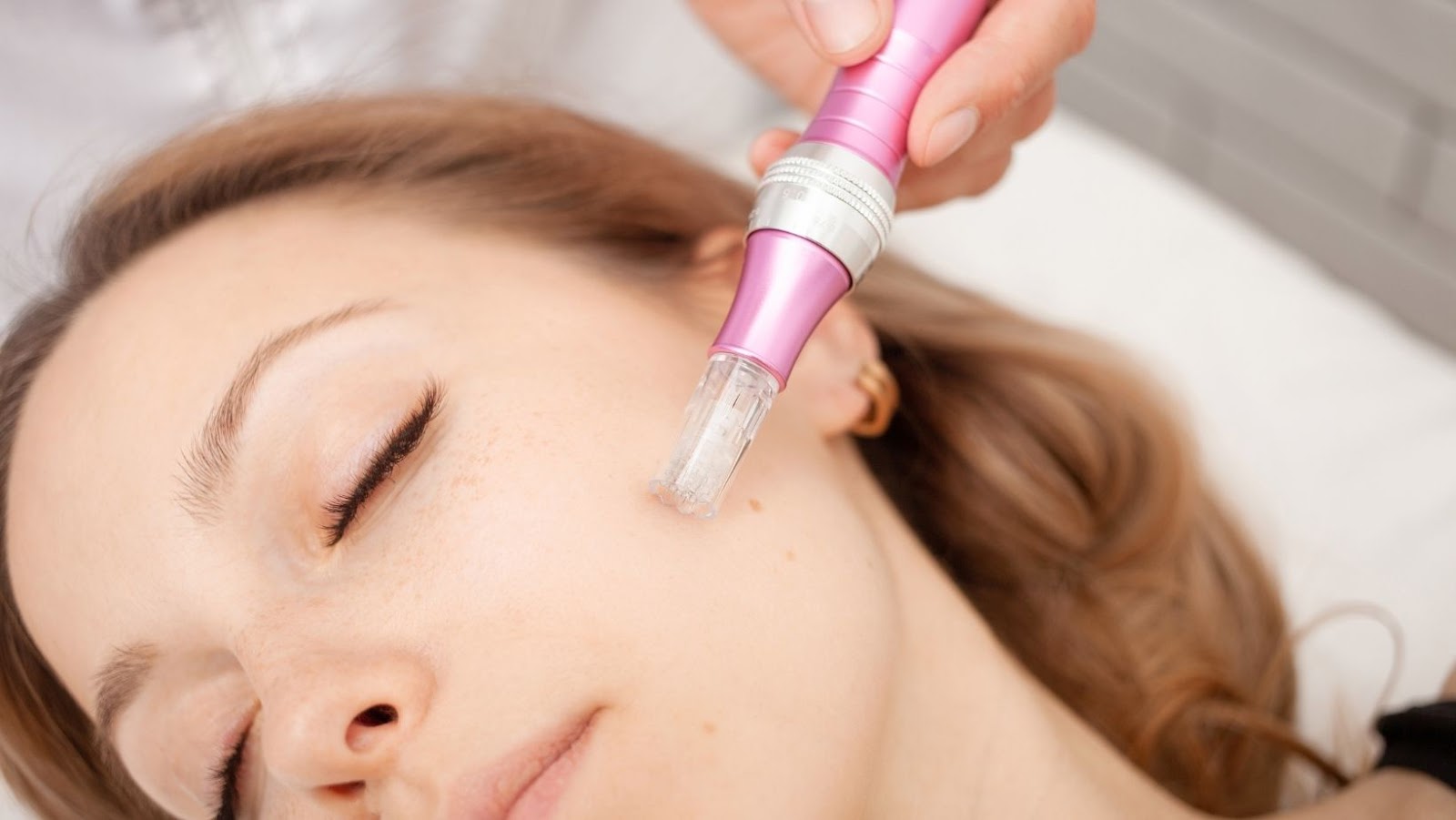 The most common form of microneedling involves applying mechanical pressure with a special device (called a dermaroller) that features dozens of tiny needles embedded on its surface. However, microneedling can also be performed in a professional medical setting with an automatic device (known as an automated microneedling pen). Whatever method you choose, you'll experience many benefits from this procedure which include:
Soften lines and wrinkles
Even out pigmentation
Improve skin tone/texture
Reduce pore size
Improve the appearance of scars
Stimulate collagen production (which helps support firmer skin)
Types of Microneedling
Microneedling is a popular non-surgical cosmetic treatment to reduce acne scars, wrinkles, and other signs of ageing. It involves using tiny needles to puncture the skin's surface and stimulate the production of collagen in your skin. There are various micro needling techniques which all involve using different types of needles and different depths to achieve the desired results.
Let's take a look at the different types of microneedling available and how often you should get them:
Dermarolling
When most people hear the word microneedling, they think of dermarolling, which is the most popular type of microneedling. Dermarolling is a minimally-invasive procedure that uses a device with hundreds of tiny needles to puncture the top layer of skin. This creates micro-wounds that stimulate collagen and elastin production, leading to smoother and firmer skin.
Dermarolling needs to be repeated on a regular basis in order to get the best results, although how often you should do it will depend on your individual needs and goals. Generally speaking, experts recommend dermarolling every 4-6 weeks or as an occasional treatment. However, if you have sensitive or very delicate skin, you should talk to your dermatologist about how often you should perform this procedure in order to make sure it's not too harsh for your particular skin type.
Dermapen
Dermapen treatments typically use a device with 12 or more small needles attached to an oscillating plate that moves around in a single direction. This type of microneedling targets areas of scar tissue and it is also widely used to reduce wrinkles and sagging skin.
The procedure is performed with an adjustable depth setting, allowing the professional to choose the pressure or intensity of the treatment. Depending on how deep you'd like for the needles to penetrate your skin, the practitioner will use a specific needle size and depth setting combination. Depending on your desired results, treatments are usually done every six weeks.
Automated Microneedling
Automated Microneedling, sometimes referred to as "dermarolling" or "micro-needling", is a treatment that uses a handheld device with many small needles attached. This device can puncture and create tiny micro injuries to the skin in order to stimulate collagen production and help improve the overall tone and texture of skin. This minimally invasive procedure can be used on all skin types and can address issues such as wrinkles, hyperpigmentation, stretch marks, scars, and even hair loss.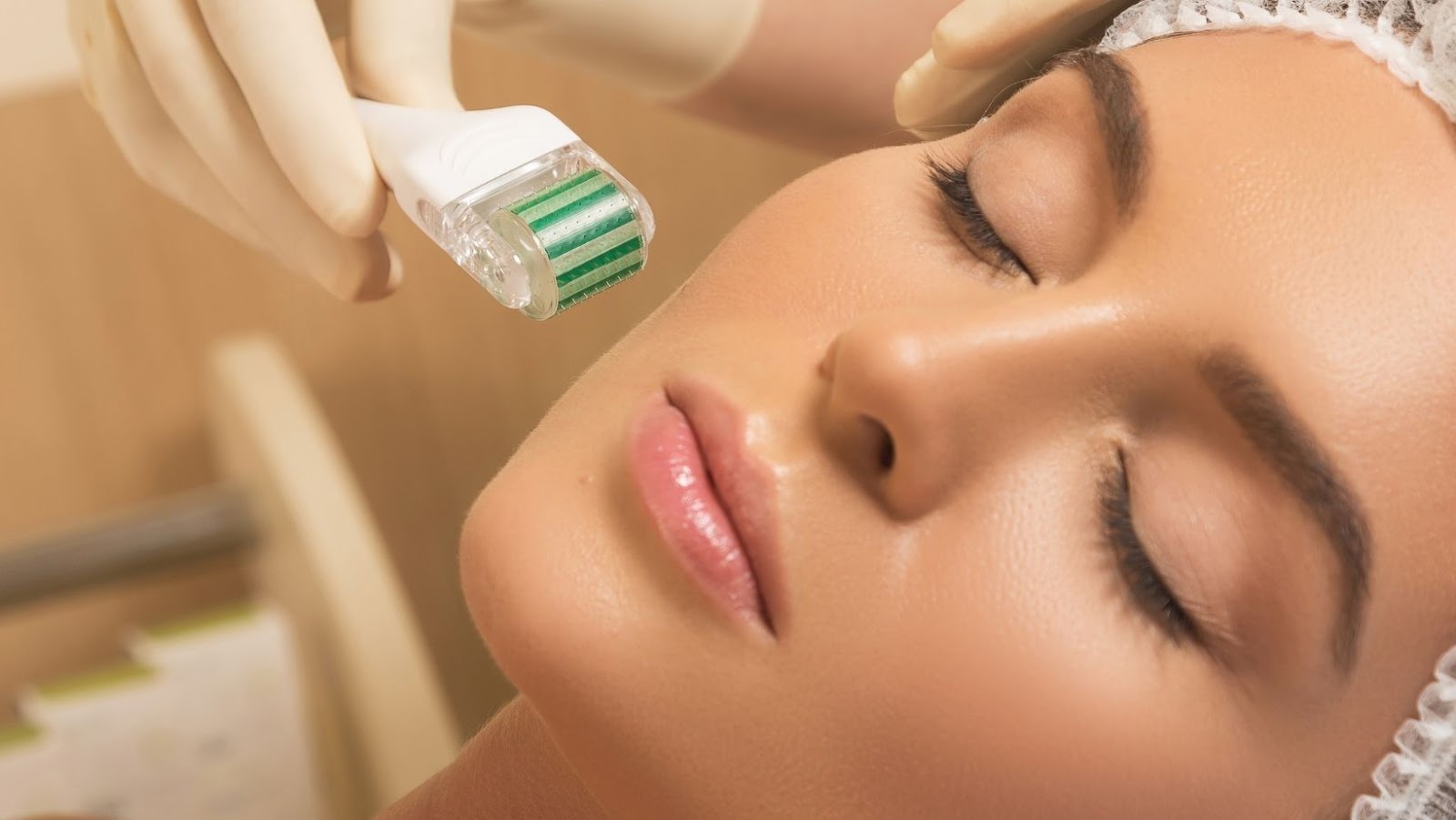 The micro-injuries created by automated microneedling help kickstart your body's natural healing process which helps to produce increased collagen as well as new healthy layers of skin. Depending on your desired goal from the treatment results may take anywhere from one to three sessions.
As with any medical procedure, it is important for a patient to consult with a qualified practitioner first before undergoing any microneedling treatments. Proper aftercare instructions should be followed in order to obtain optimal results from the procedure; this includes:
Avoiding direct sunlight and heat exposure
Keeping the area moisturised with high quality moisturisers
As usual, how often you should get microneedling will depend entirely on an individual's specific needs; it is best advised that an individual follow their doctor's recommendation when determining how frequently they should receive treatments.
Frequency of Microneedling
When it comes to microneedling, one of the big questions is how often should you get it? This is an important question as microneedling is an investment, and frequency of treatment can make a big difference in the results. In this article, we'll look at the different micro needling techniques and how often you should get them to get the best results.
How Often Should You Get Microneedling?
When determining how often to schedule your microneedling appointment, it is important to consider the type of procedure you have chosen and your individual skin care goals. The frequency of microneedling treatments can range from twice a month to twice a year, depending on the depth and intensity of the procedure.
A lighter treatment such as SkinPen or Dermaroller, which uses smaller needles and works on a superficial layer of skin, can be performed up to once every two weeks in order to achieve optimal results. Deeper treatments such as vibradermabrasion or eMatrix must be used more cautiously and may require longer waiting periods between treatments in order to properly heal the skin. However, these two procedures are only recommended for advanced cases and those with more stubborn scars or wrinkles.
For best results, it is always advisable to consult with an experienced aesthetician in order to create an individual plan that is tailored specifically for your skin's needs. They will not only discuss the number and frequency of treatments but also recommend lifestyle changes that enhance your session goals such as dietary restrictions, daily routine modifications and any other related personal care tips for maximum benefits from your sessions.
Aftercare
Aftercare is essential for achieving the best microneedling results. Depending on the type of microneedling procedure you receive and the sensitivity of your skin, the post-treatment care periods vary. However, all microneedling patients should understand the extent of the aftercare and take the necessary steps in order to maximise their results.
Let's explore the post-treatment care tips and how often should you get microneedling: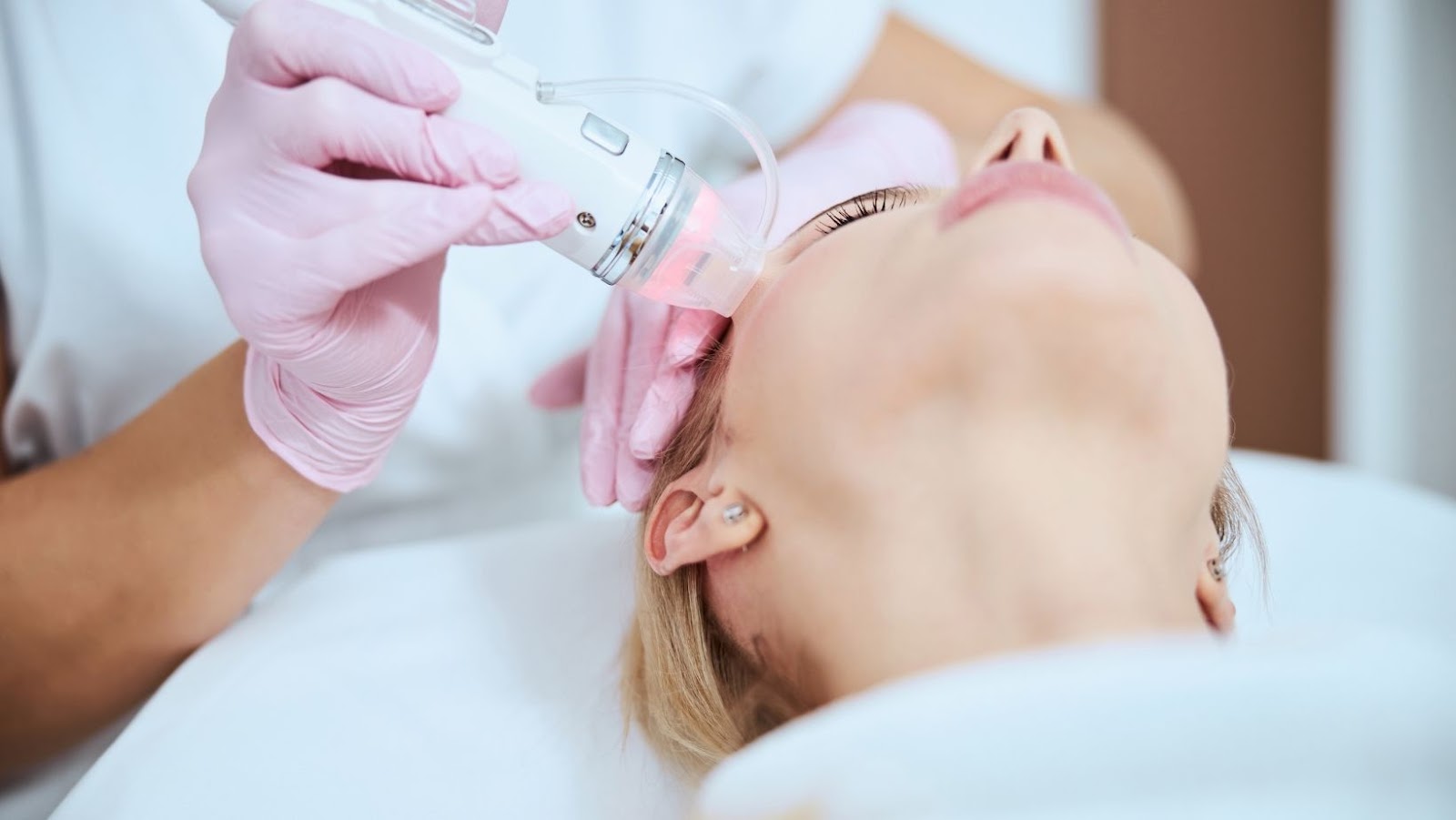 What to Do After Microneedling
Your skin may feel slightly warm and irritated after a microneedling treatment, since many small needles penetrate the surface of your skin. Immediately after the procedure it is important to keep the skin well moisturised with water-based creams or ointments that can reduce stinging and help improve your complexion.
In the hours that follow, take care not to rub or scratch the treated area – no makeup should be applied for at least eight hours afterwards. In addition, avoid direct exposure to sun rays during this period as increased UV light exposure can irritate the sensitive skin on your face.
It is also important to be gentle in order to promote quick healing. Do not participate in hot yoga classes during this post-treatment period; swimming laps, hot showers and saunas should also be avoided for five days afterward as these activities can release bacteria into your pores and prolong your recovery time. As you heal, always use sun blocking lotion when in direct sunlight.
It may take up to three days before swelling subsides completely; depending on how aggressive the treatment was some redness could linger for up to a week after treatment. For optimal results you are likely going to want multiple treatments – It's recommended that you wait 4–6 weeks between treatments and maintain good daily skincare habits such as cleansing, hydration with moisturiser products specifically formulated for dry or oily skin types and potentially daily sunscreen use (depending on how much exposure your normal day-to-day activities are outside)
What to Avoid After Microneedling
It's important to remember that your skin will be sensitive to heat, friction and makeup following microneedling. The following list of activities should be avoided for a short period of time after the procedure:
Direct sun exposure: After the treatment, it is necessary to avoid direct sunlight for at least 72 hours in order to minimise the risk of burning or irritation from UV rays. Wear a hat and well-fitted sunscreen when outside.
Hot showers: To avoid irritating the skin and reduce inflammation, take lukewarm showers for several days post-treatment. Refrain from taking extra hot showers that might irritate the skin or cause a sunburn.
Swimming: Swimming pools are generally very chlorinated which can make your skin more susceptible to burning after microneedling. Refrain from swimming in any type of pool or hot tub afterwards.
Cleansing with harsh chemicals: Overly strong cleansers should be avoided during this time because they can irritate recently needled skin causing unnecessary discomfort and longer healing time frames. Stick with gentle cleansers after your microneedling session as harsh chemicals could lead to further irritation and dehydration.
Exercise: Postpone any strenuous exercise until after the surgery as increased levels of inflammation could put excess stress on newly treated areas of your face making them redder than usual for much longer periods of time thereby prolonging recovery times.
Tight clothing: Tight clothing such as hats, shirts and even dresses should not be worn post treatment since anything too close in contact with the treated area could lead to further irritation leading again prolonged healing time frames.
Conclusion
In conclusion, it is important to consider the effectiveness of microneedling as a treatment for various skin concerns. The different techniques offer a range of results and should be considered based on your individual needs. However, it is best to consult with your dermatologist before beginning any new skin care regimen to ensure that microneedling is the right option for you.
On average, many individuals begin to see their desired results after 3-5 treatments, though this can vary depending on the severity of their skin concerns. It is also important to note that there are some potential side effects associated with this treatment that may require medical supervision – including bruising, swelling and infection – so be sure to discuss any potential risks prior to undergoing microneedling.
Ultimately, when done correctly and with proper follow-up care, microneedling can provide dramatic improvements in the appearance and feel of your skin while helping you look younger and healthier overall.