Choose the right toner for your skin type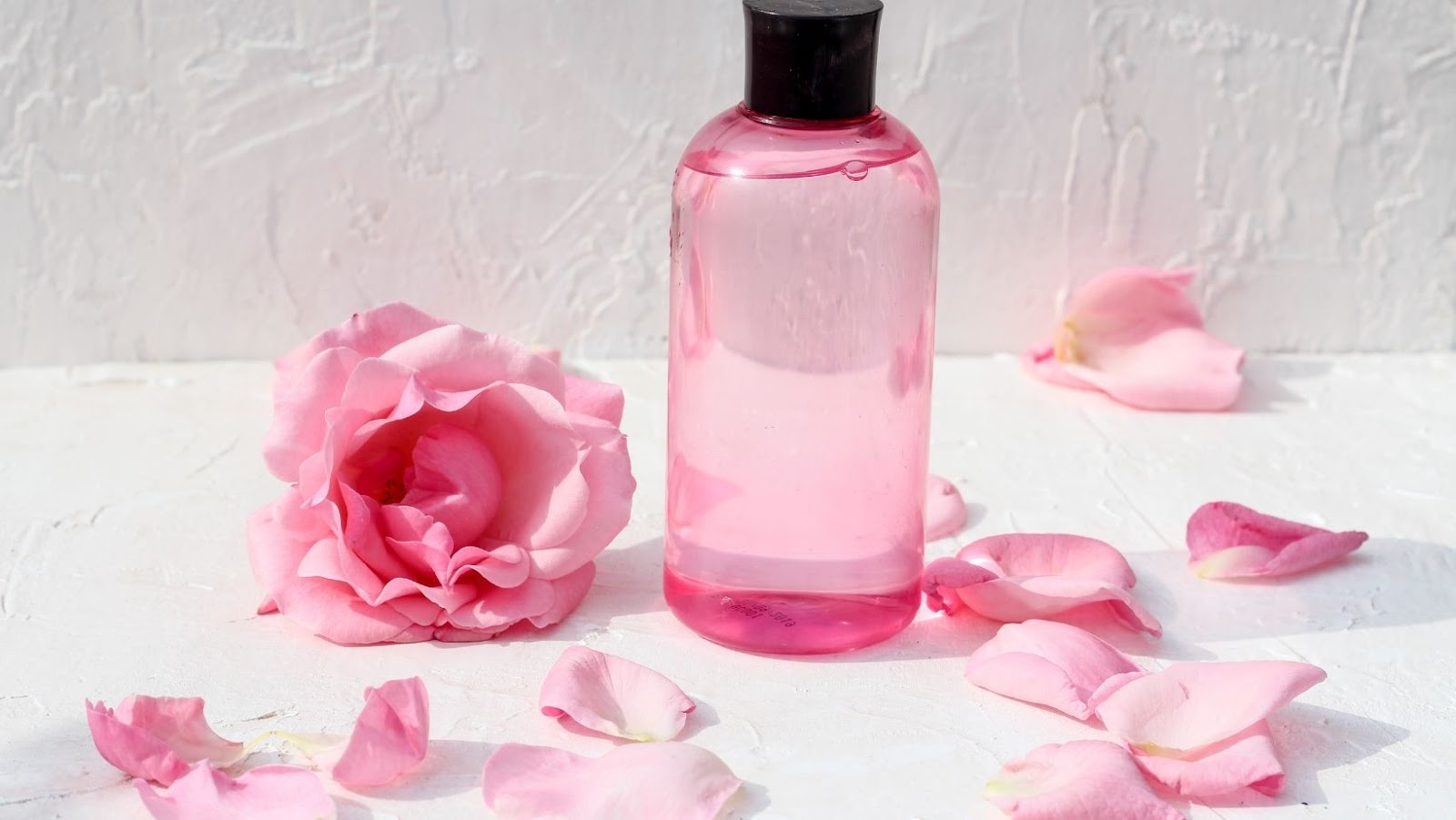 Applying toner on your face can help to reduce inflammation, remove dirt and oil, and hydrate your skin. Toner is also important for balancing your skin's pH levels, which can help to prevent acne and other skin issues. However, it's important to choose the right type of toner for your skin type. This article will explore how to apply toner on your face, as well as how to select the right toner.
How to apply toner on face
Toner is an important skincare product that helps to cleanse and balance the skin. Toners are typically applied after cleansing and can help to remove dirt, oils, and other impurities. Additionally, they can shrink pore size, help to reduce any dryness or irritation after cleansing and restore the pH balance of the skin. They may also contain ingredients that act as antioxidants, helping to protect against environmental damage.
Toner is available in many forms such as liquid solutions (sometimes called "skin tonics"), gels, sprays, sheets, roll-on applicators and more. Depending on a person's skin type and needs, toners can be very beneficial for overall health. It is important to choose a toner suitable for your specific skin type as some may contain irritating ingredients or be overly drying or oily.
Types of toners
Toners come in a variety of options, from alcohol-free to oil-based, and each type of toner is designed to suit different skin types. In order to choose the best toner for your skin type, it's important to know the various types of toners available and how they work. In this article, we are going to discuss the different types of toners and how to choose one for your skin type.
Alcohol-based toners
Alcohol-based toners are primarily designed for those with oily and acne-prone skin types. They quickly remove any dirt, oil and makeup residue that the cleanser may have missed, resulting in a clearer appearance. Alcohol-based toners can also help reduce enlarged pores – an effect largely attributed to their ability to dry out the skin.
Although alcohol-based toners have several beneficial functions, they should be used sparingly and cautiously by people with sensitive or combination skin type due to their potential drying effects on the skin. These types of toners typically contain alcohol (ethanol) as their active ingredient, which can strip the natural oils from your face – resulting in dryness, irritation and sensitivity.
Because of their high concentration of alcohol (anywhere between 40%-60%) it is generally advised that you follow up any alcohol based facial toner with a few drops of facial oil or moisturiser after use to rehydrate your skin and protect it from drying out completely. It's important to always apply sunscreen before heading outdoors after using an alcohol-based toner as they can leave your skin feeling exposed and make you more prone to sun damage!
Natural toners
Natural toners are an ideal choice for those looking to use gentle ingredients in skin care treatments. These toners use simple, pure components such as herbal extracts, hydrosol and pure water combined to form an alchemical union of elements with amazing skin healing properties. They are much gentler than traditional toners and leave the skin feeling refreshed and nourished instead of over-dry or tight.
Natural toners can typically be used for all skin types and usually leave the complexion feeling clean, hydrated and balanced. Most are made from herbs, flowers and essential oils that have astringent or antioxidant properties, helping to shrink pores, activate circulation and maintain glowing complexion. Natural ingredients can also improve a formulation's efficacy by delivering natural glycerin or fatty acids as well as special cell principles directly to the skin cells – elements that your own skin is missing or running low on due to exposure to pollutants.
When using a natural toner, apply it with a cotton pad to freshly cleansed facial areas which you want to treat (usually forehead, cheeks and chin). After this lightly massage it into your skin following the direction of blood flow towards the heart. Allow several seconds for its absorption into your complexion before you proceed with other steps in your routine such as moisturiser, serums etc.
AHA/BHA toners
AHA and BHA toners are gaining popularity for their gentle, rejuvenating effects on skin. These types of toners can help reduce the appearance of wrinkles, blemishes, large pores, acne scars and hyperpigmentation. They also help to reduce oiliness, resulting in a more even complexion.
AHA stands for Alpha Hydroxy Acid and BHA stands for Beta Hydroxy Acid. The main difference is that AHA works on the surface of the skin while BHA penetrates deeper into the pores, making it ideal for those with oily skin or issues with clogged pores. Together they can provide noticeably softer, smoother skin with reduced signs of ageing.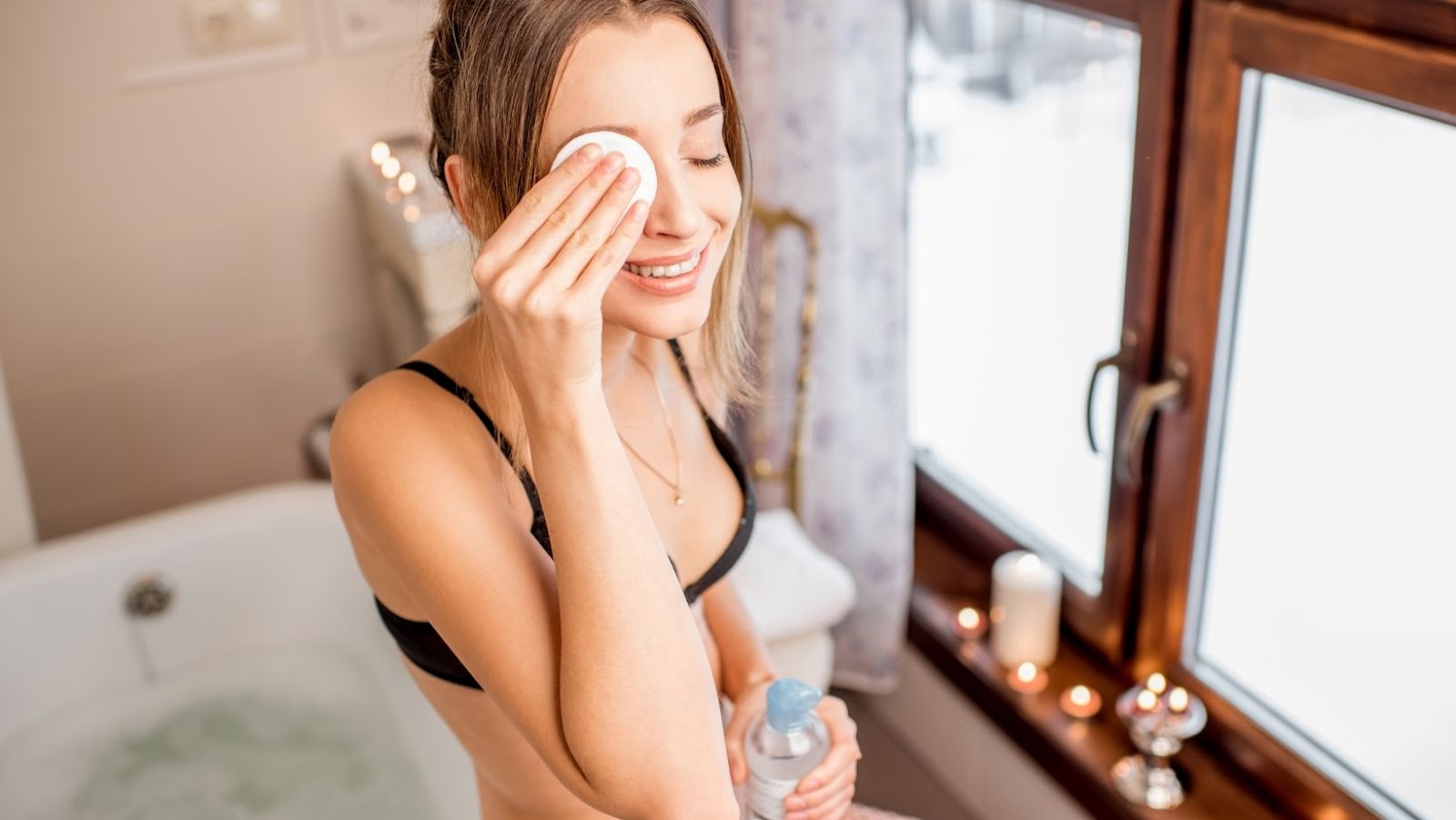 Applying AHA/BHA toner is quite simple. After cleansing your face and patting it dry, gently apply a few drops of the toner onto a cotton pad and use circular motions over your face and neck area to evenly distribute it across your skin. Allow it to fully absorb before applying serum or moisturiser next. It's important to use these types of toners sparingly as they contain active ingredients that could be irritating when used too frequently or in high quantities. Remember to always follow up with SPF during the day since AHAs can make your skin more susceptible to UV damage from sunlight!
Cleansing toners
Cleansing toners can be used to cleanse the skin of excess dirt, oil and impurities missed in your usual face wash routine. These types of toners are usually applied using a cotton pad or finger tips after cleansing. Cleansing toners typically have a higher amount of alcohol, so it's important to look for one specifically designed for sensitive skin types.
The key benefit of cleansing toners is that they help remove oil and dirt quickly while still leaving some moisture in the skin. This type of toner can be particularly beneficial for those with oily-combination skin, providing an even smoother complexion without causing dryness or irritation.
When it comes to application, start by wetting a cotton pad with a few drops of toner and gently wipe your face in an outward motion starting from the centre of your chin, moving up to the nose area then outwards towards the temples. Both morning and night routines require you to use this product after your cleanser but before applying any other products or creams.
Choosing the Right Toner
When it comes to good skincare, choosing the right toner is essential. Toner is used to balance the skin's pH levels and can also help to remove excess oil, dirt, and makeup residue. There are a lot of toners available on the market, so it's important to know how to choose the right one for your skin type. Let's discuss the different types of toners and how to apply them on your face.
Skin type
It's important to choose a toner that's right for your skin type. If you have oily skin, look for products that contain ingredients like witch hazel and tea tree oil, which help to remove excess oil while also providing antibacterial properties. For combination and dry skin types, look for toners that are hydrating and gentle. Avoid those that are overly astringent or alcohol-based as they can be irritating and drying.
When using toner on your face, first use a gentle cleanser to remove dirt and impurities from the skin surface. Pat the area dry with a soft towel before applying the toner with a cotton pad in a circular motion. Allow it to soak in for a few minutes before applying any serums or moisturisers on top. Since each skin type has different needs, you may not need to use toner everyday depending on how your complexion responds to it. Instead, using it two or three times per week should be enough!
Skin concerns
Whether you're aiming to get rid of acne or just maintain a healthy complexion, being aware of your skin concerns can help you decide which toner will be the best for you.
For those with oily or combination skin types, look for a toner that is alcohol-free and oil-free – it will work to remove excess dirt and oil without over-drying the face. Look for a toner that contains Vitamin E to nourish dry skin and help retain moisture. If you have oily skin, opt for an astringent containing alpha hydroxy acids (AHAs) such as glycolic acid or salicylic acid to exfoliate dead skin cells while preventing blackheads/whiteheads/blemishes.
How to Apply Toner
Applying toner can help you achieve the smooth, clear skin you've been dreaming of. Toner helps to balance your skin's pH, remove any remaining traces of makeup or dirt that your cleanser may have missed, and add an extra layer of hydration. But before you start using it, it's important to find the right toner for your skin type. This article will help you understand how to choose the right toner and apply it correctly.
Step 1: Cleanse your face
Before applying toner, it is important to properly cleanse your face in order to remove dirt, oil and debris that could interfere with a successful toner application. Use a gentle cleanser specifically formulated for your skin type. Concentrate on areas that tend to show signs of oiliness or congestion such as the nose, forehead and chin. Thoroughly rinse your face with lukewarm water followed by an application of cold water to close the pores. Pat your face dry with a soft towel rather than rubbing or scrubbing any remaining makeup or residue away from the skin.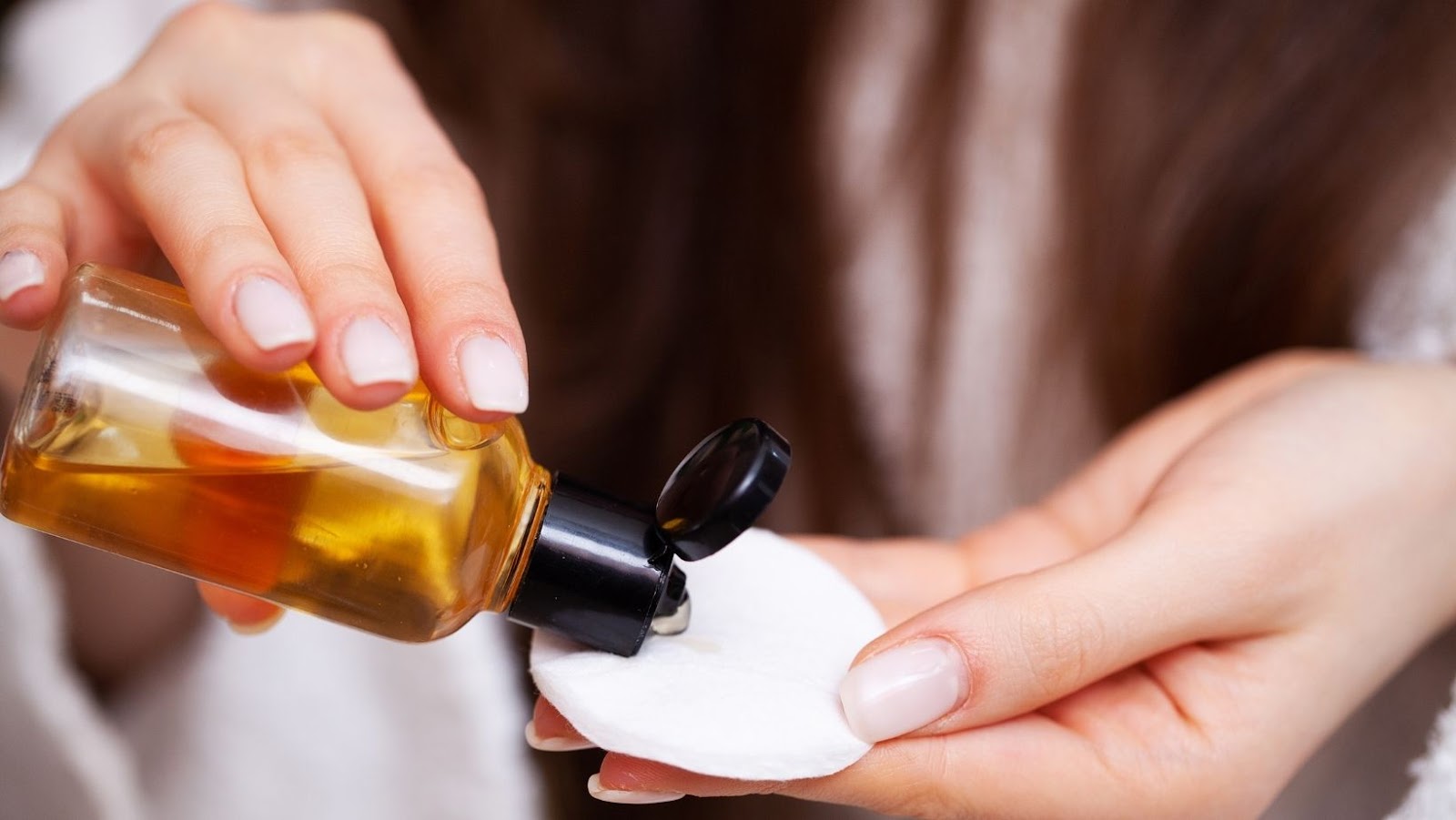 Once you have thoroughly cleansed your skin, take a few moments to allow it to settle before beginning to apply toner. Ignore any urges you may have to use an exfoliating scrub prior to applying toner as this could result in irritation or inflammation of the skin which can hinder the success of the application process.
Step 2: Apply toner
Once you've chosen the right toner for your skin type, it's time to apply it. To ensure that you get the full benefits of a toner, follow these steps:
-Use a gentle cleanser to remove dirt, oil and makeup.
-Soak a cotton ball or pad with toner. Squeeze out any excess toner so that the cotton is only damp — not dripping wet — when applied.
-Starting at your chin, gently press the soaked cotton ball over your entire face in upward strokes or circular motions until you have fully covered your face with toner.
-Wait for a few minutes until all of the product has been absorbed into your skin before moving on to applying other products.
-Lastly, rinse off any excess toner with lukewarm water if necessary.
Step 3: Moisturise
Once you have chosen the right toner for your skin type, it's time to apply it. To apply your toner, take a clean cotton pad (which can be purchased from any beauty supply store or drugstore) and saturate it with the toner. Be sure to wring out the cotton pad to ensure that there are no drips. Starting at your forehead, lightly dab the saturated cotton pad all over your face and neck in an upward motion. Make sure to get into any creases around your nose or eyes. You should repeat this process until the toner feels almost dry on the skin.
Once you've applied toner all over your face and neck, you can move onto moisturising. Moisturising helps seal in hydration, lock in nutrients and keep skin nourished and healthy. Before applying your moisturiser of choice (which ideally should match your skin type), gently pat off any remaining bumps or drops of toner with a clean towel or muslin cloth if necessary.
Conclusion
Choosing the right toner for your skin type is important to ensure good skin health and to keep your skin looking great. It is important to understand your skin type and find the right toner for your skin needs. It is also important to know how to properly apply toner on your face. In this article, we discussed the importance of finding the right toner for your skin and how to properly apply it.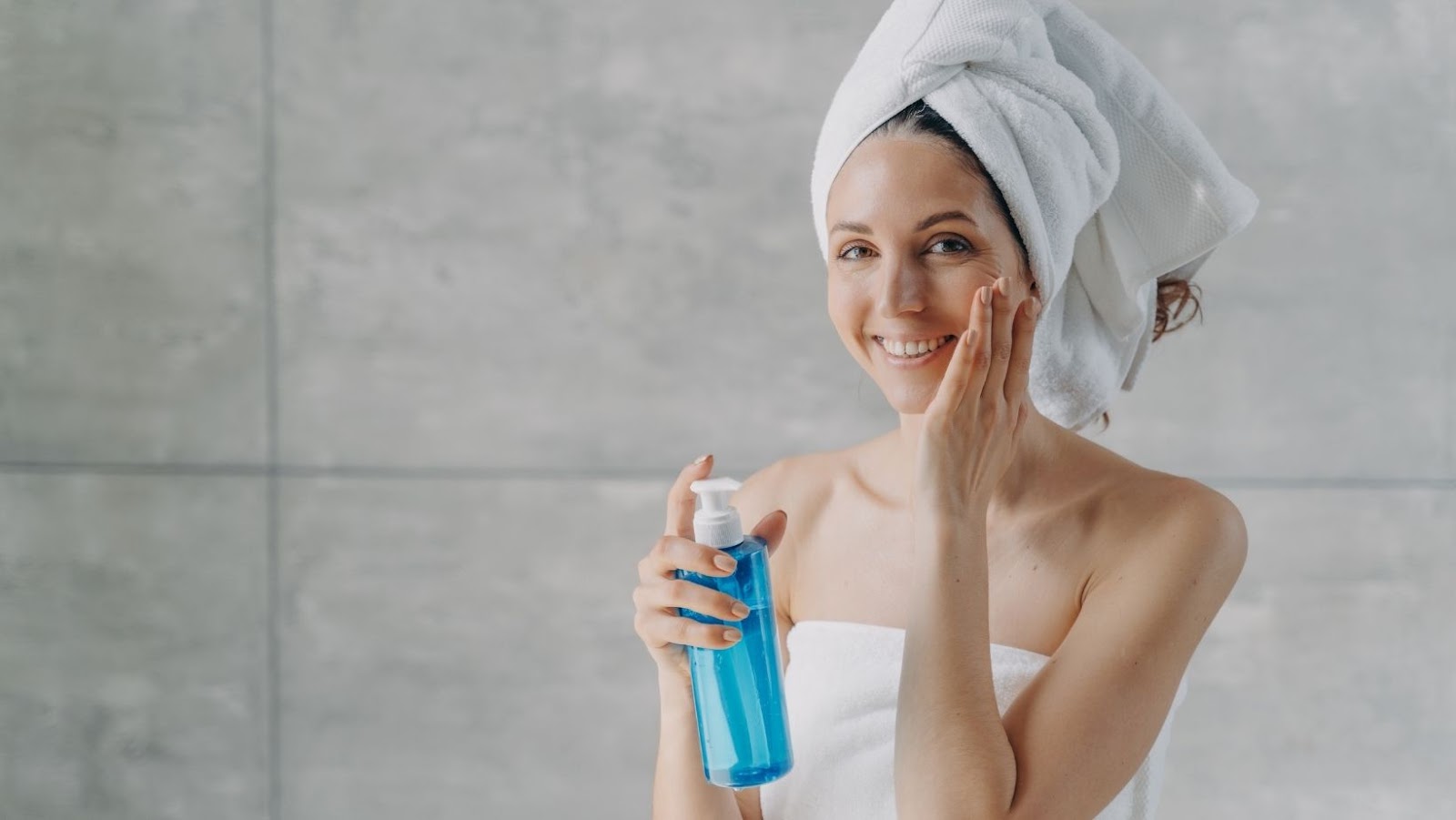 Summary
To sum up, when applying toner to the face, it is important to choose the right product for your skin type. For those with oily skin, an astringent or a toner that contains alcohol can help to reduce excess oil and make it easier to absorb moisturisers. For those with normal skin, using a gentle toner can help to keep skin hydrated and remove impurities without stripping your pores of beneficial oils. Those with dry skin should use toners that contain more hydrating ingredients such as glycerin or hyaluronic acid which can help provide lasting moisture and luminosity. Ultimately, taking into consideration individual preference and skincare goals when selecting a face toner is key to achieving optimal results.
Tips for applying toner
Once you've chosen the right toner for your skin type, it's important to know how to apply it properly. The following tips will help ensure smooth, even results.
1. Cleanse your skin prior to applying toner: Cleansing your face before applying toner can help remove dirt and oil from your pores and provide a blank slate for the toner to work its magic. Make sure to wash with lukewarm water and a gentle cleanser that won't strip your skin or cause irritation.
2. Don't rub or drag the toner across your skin: Applying too much pressure when using a cotton pad or swab can irritate fragile facial skin, so be sure to lightly glide the cotton across your face in gentle, circular motions. This action helps to evenly distribute the toner without causing any damage or redness.
3. Apply serum after toning: Once you've completed the application of toner, allow it to dry completely before applying any serums or creams that might further hydrate, moisturise, and protect sensitive facial skin.
4 Allow time for absorption: After applying all products on top of the toner (serum, moisturiser), give these items time to penetrate into the skin before sleeping or continuing with any makeup application routine. Taking these simple extra steps will ensure maximum benefit from all products applied!