Choosing the Right Vitamin C Serum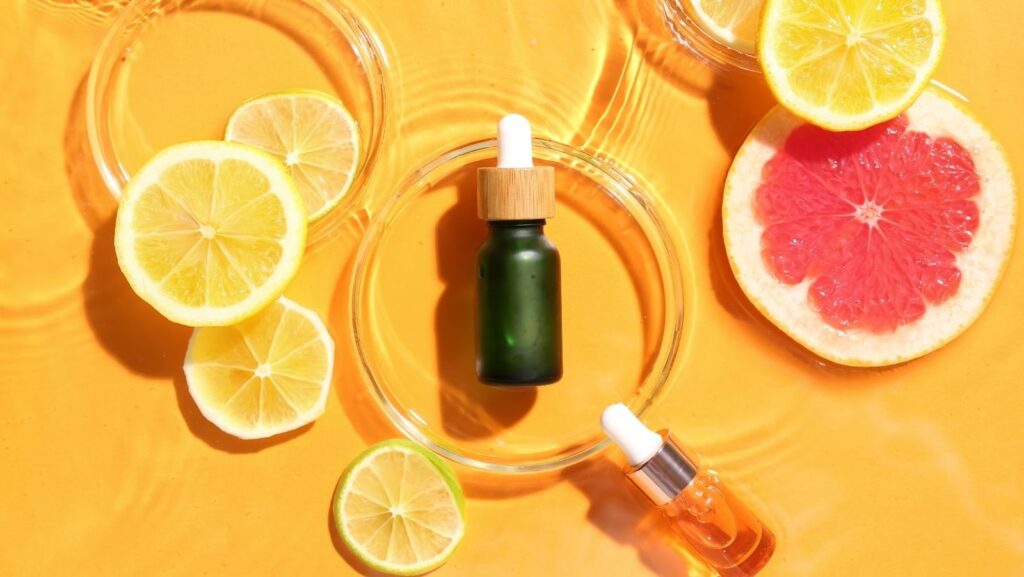 Vitamin C serums can be an important part of your facial skincare routine. Not only do they work as an antioxidant to fight damage from the sun and other environmental factors, they can also help reduce wrinkles and protect against premature ageing.
When purchasing a vitamin C serum it's important to know what kind you need and what ingredients it contains. Depending on your skin type and needs, there are many different types of vitamin C products available on the market. Here are some tips to help you choose the best one for you:
How to use vitamin c serum on face at night
-Understand your skin type – Vitamin C serums are formulated differently depending on whether your skin is normal, oily, dry or combination. Those with more oil in their skin should opt for a gel or serum that is oil-free, whereas those with drier skin can benefit from a creamier consistency with more moisturising properties.
-Look for stabilised form of vitamin C – It's important to look for stabilised forms of vitamin C such as calcium ascorbate, sodium ascorbate or magnesium ascorbate when shopping for a serum, as these will be less likely to break down before they reach your face and become ineffective.
-Check its pH – The effectiveness of any Vitamin C product depends in large part on its pH balance. Most serums should have a pH balance between three and four; anything lower than this can be too harsh on the skin.
-Look at the rest of the ingredients – Many Vitamin C serums contain additional ingredients such as hyaluronic acid or ferulic acid which can enhance their benefits by offering even greater antioxidant protection against environmental damage.
By taking into account these four considerations when looking for a vitamin C serum, you'll be able to select one that meets all your skincare needs and gives you noticeably smoother looking skin over time.
Benefits of Vitamin C Serum
Vitamin C Serum can be a great addition to your skincare routine, as it helps to brighten, even skin tone, promote collagen production and reduce inflammation. Vitamin C is an antioxidant and can help protect your skin from free radical damage due to environmental factors. When used correctly and regularly, a Vitamin C Serum can improve your complexion and help you achieve a healthier, more youthful look. In this article we're going to be looking at the benefits of Vitamin C Serum and how to use it correctly.
Anti-Aging Benefits
Vitamin C serums have become increasingly popular in recent years due to their anti-aging benefits. Vitamin C helps to reduce the appearance of fine lines and wrinkles, as well as promote a healthy, glowing complexion. It can stimulate collagen production and help improve the skin's overall firmness while brightening dull skin.
In addition, vitamin C serum is beneficial for promoting an even skin tone by diminishing dark spots and hyperpigmentation, reducing the appearance of sun damage and protecting against environmental pollutants thanks to its antioxidant powers. It also works to strengthen skin tissues and increase moisture levels for a softer, smoother texture.
When choosing a Vitamin C serum, it's important to look for one that contains between 10-20% of active L-Ascorbic Acid (LAA) which is powerful enough to make a difference but still gentle on your skin. Since Vitamin C is sensitive to light and air exposure, it's best if it comes in an opaque bottle with dropper or pump-top lid to preserve its shelf life better. As always with any topical skincare product, consult a dermatologist before adding a vitamin C serum into your routine as ingredients can trigger allergies or other reactions on some people's skins. For best results use once or twice every day after washing your face with warm water and patting dry – if you are using it in the morning make sure to follow up with sunscreen protection afterwards; at night don't forget moisturiser! With consistent usage you should notice firmer more hydrated skin along with greatly reduced wrinkles over time.
Skin Brightening
Vitamin C serum is a well-known skin care ingredient that has many benefits. It has long been used to promote healthier skin and reduce signs of ageing. Vitamin C serum brightens the skin, by working to reduce the appearance of dark spots, freckles and other areas of discoloration. It slows down melanin production, which leads to brighter and more even-toned skin. In addition to lightening dark spots, vitamin C can help improve sun damage, melasma and age spots.
Antioxidant Benefits
Vitamin C serum is packed with powerful antioxidants that can reduce the environmental damage caused by free radicals and exposure to UV rays from the sun. Its active ingredients, ascorbic acid, ferulic acid and other natural botanicals can help neutralise damage caused by free radicals such as fine lines, wrinkles and age spots. Ascorbic acid in particular binds to collagen fibres, increasing the strength of those fibres over time and promoting a more youthful appearance. In addition to antioxidants, many Vitamin C serums contain hydrating benefits such as natural oils or humectants like glycerine which act as a barrier for water loss. By keeping skin hydrated, the serum helps maintain skin's elasticity, giving it a plumper look. Vitamin C serums used before bedtime leave the skin feeling replenished while helping repair any damage that occurred during the day.
Choosing the Right Vitamin C Serum
The benefits of using vitamin c serum on face at night are numerous, from improved skin tone and texture to increased elasticity as well as protection from free radicals and UV damage. When looking for the right vitamin c serum for your skin, it is important to understand the different formulas available, as well as the various types of ingredients that can be found in different vitamin c serums. This article will provide a comprehensive guide to help you choose the right vitamin c serum for your face.
Consider Your Skin Type
When you are looking for the right vitamin C serum, it's important to consider your skin type. As with any skin care product, you want to make sure the serum is suitable for your unique skin type. Dry and sensitive skins may need a lower concentration of vitamin C than an oily or combination skin. Additionally, people with dry and sensitive skins may benefit more from formulas which include additional hydrating ingredients like ceramides and hyaluronic acid than those with oilier complexions.
The concentration of the active ingredient (in this case, the vitamin C) is key in helping to determine if a specific serum is suitable for your skin type. Serums that contain up to 10% of L-ascorbic acid (the most common type of vitamin C) are ideal for dry and sensitive skins as they are gentler on the skin without compromising its efficacy in brightening and tightening the complexion.
For oily complexions, serums containing 10%-15% L-ascorbic acid (or other forms of vitamin C) can be used since these higher concentrations help combat many common blemishes caused by an overproduction of sebum.
It's also important to remember that different kinds of active ingredients can play different roles depending on their percentages so it's always best to read labels carefully when considering which products to purchase as well as taking note of any recommendations and advice provided by experts in this field!
Check the Ingredients
When looking for the best vitamin C serum to use on your skin, pay close attention to its ingredients. Many serums contain active ingredients like Vitamin C, ferulic acid, and hyaluronic acid.
Vitamin C is a powerful antioxidant that works to help protect the skin from environmental damage, boost collagen production and brighten the complexion. Look for products with an L-ascorbic acid concentration of at least 15% to ensure maximum potency.
Ferulic acid is a plant-based antioxidant that has anti-inflammatory benefits and enhances the sun protection power of vitamin C when used together. It also helps stabilise the vitamin C and lengthens its shelf life. Most effective formulations have a ferulic acid concentration between 0.5 and 1%.
Hyaluronic Acid acts as a humectant or moisturiser in serum formulations, helping keep skin hydrated and restoring suppleness over time. Products with hyaluronic acid can be used daily for best results as this ingredient helps promote extra moisture into your skin barrier long after you rub it in. The optimal hyaluronic acid concentration for serums typically ranges from 0.1 -3%.
Keep an eye out for other beneficial ingredients, such as aloe vera gel to soothe irritated or sensitive skin or green tea extract for additional antioxidant protection against damage caused by UV exposure and other environmental aggressors!
How to Use Vitamin C Serum on Face at Night
Vitamin C serums are popular skincare products used to reduce the appearance of wrinkles and other signs of ageing. They can help to hydrate and protect skin from environmental toxins. When you use a vitamin C serum, it is important to understand how to properly use it and when to apply it. Here, we will discuss how to use vitamin C serum on your face at night for the best results.
Step 1: Cleanse Your Face
It is important to start with freshly washed, clean skin before applying your Vitamin C serum at night. Use a gentle cleanser and be sure to rinse thoroughly in order to remove any dirt, oil or makeup that may be present. Pat your face dry gently with a soft face towel. After cleansing, you may want to consider using a toner as an additional step in preparing the skin for the serum. The toner can help to balance out the pH of your skin and ensure that it is ready for the next step in your skin care routine.
Step 2: Apply Vitamin C Serum
Once you have chosen the right Vitamin C Serum for your skin type, it's time to start using it nightly. For the best results, make sure to use only a small amount of serum. If you are using a Vitamin C Serum with Vitamin E, you will want to mix this serum with another light moisturiser or oil to ensure even application and maximum absorption.
To begin, squeeze out a pea-sized amount of serum into your hand or onto a cotton pad and massage gently onto cleansed skin. Start at the centre of your face and work outward in small circles. Be sure to pay special attention to areas that are showing signs of sun damage – dark spots, fine lines and wrinkles – as they will benefit most from the powerful anti-aging properties in the serum.
Let the serum dry completely before applying any additional skincare products (moisturiser or sunscreen). In general, make sure you give it at least 30 seconds after application before rotating your head side-to-side or patting on other products as this can cause tiny droplets of product to fling off your skin before being properly absorbed.
Step 3: Apply Moisturizer
Now that you have added your Vitamin C serum to your skin care regimen and applied it to your face, the next step is to use a moisturiser. You will want to look for a moisturiser that is specifically designed for nighttime use, as these are typically thicker and more hydrating than daytime formulas.
Applying a moisturiser at night helps to lock in all the benefits of the Vitamin C serum you applied before it, making sure that the skin stays hydrated and protected. If using a Vitamin C serum regularly, make sure to choose an appropriate hydration product – too heavy of a moisturiser can clog pores while too light may not provide enough protection. Look for products with added antioxidants like resveratrol or aloe vera extract.
Using circular motions, apply the moisturiser over your face starting from the centre outward in order to evenly distribute it across your skin. Allow it to sit on your skin for 1-2 minutes before patting off any excess with a soft cloth or tissue paper – do not wipe away! If you are looking for added benefits (such as eco-prebiotics) or brighter complexion out of your night time routine, add on either an exfoliating scrub or brightening formulation such as Niacinamide (vitamin B3). Finally, don't forget about those delicate under eye areas – apply some eye cream before bed so that those light bags are gone by morning!
Conclusion
When it comes to taking care of your skin, Vitamin C serum is a great option for anyone looking to target wrinkles, reduce sun spots and improve overall skin texture. It should be used in the evenings on freshly cleansed skin before your moisturiser or night cream. When applied directly to the face, you may experience some tingling but this will typically subside after a few minutes. Be sure to watch out for any allergic reactions and stop using immediately if you experience any major side effects. Don't forget to wear sunscreen during the day as Vitamin C will make your skin more sensitive to sunburns!