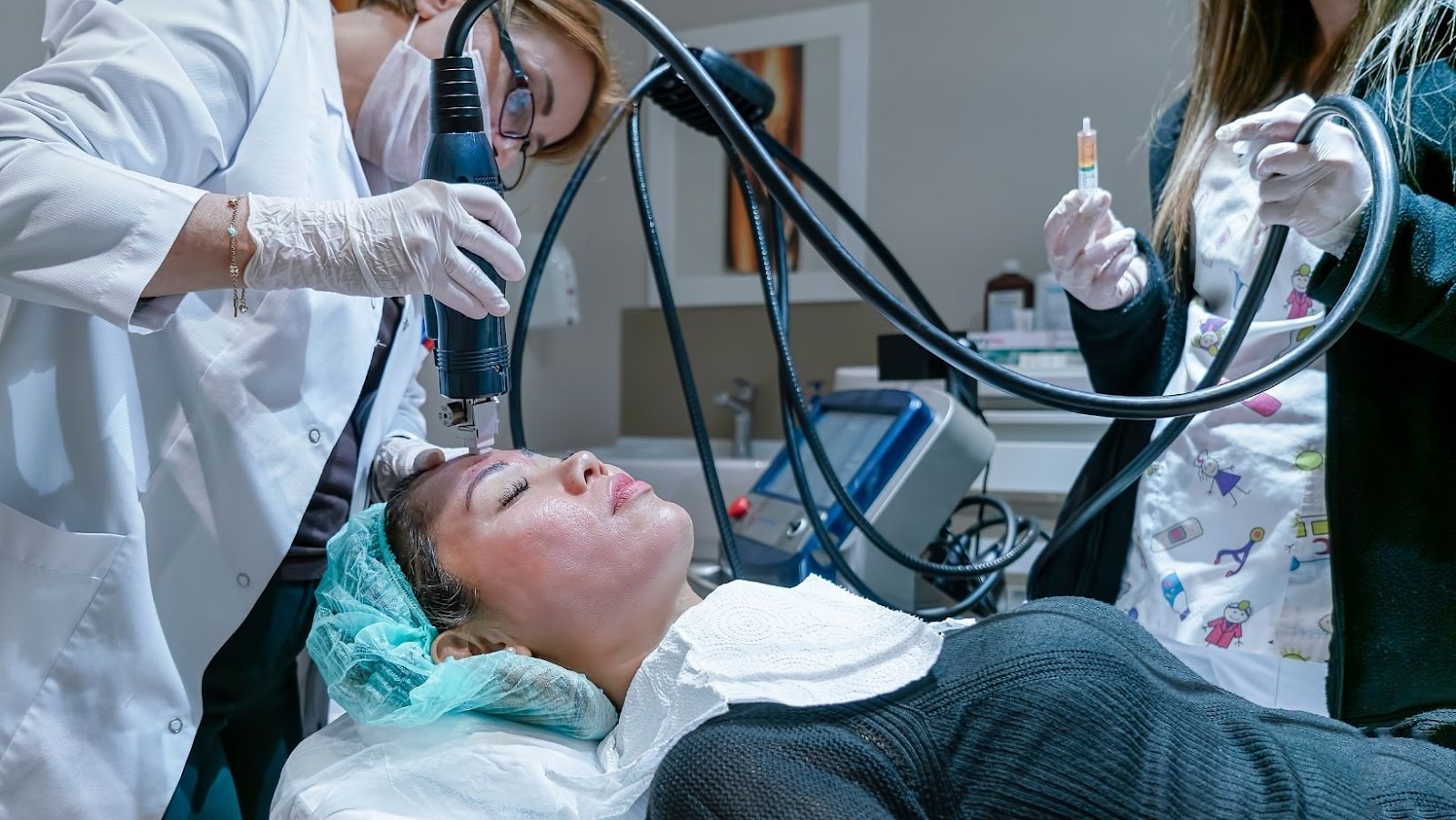 Microneedling is a popular treatment for improving skin's texture, lines and wrinkles. Tiny needles prick the skin to promote collagen production and reduce the appearance of wrinkles and scarring, but potential patients may wonder if this treatment is safe. Generally, microneedling is safe when performed professionally by a board certified dermatologist or other trained professional.
How often to get microneedling
Microneedling involves using a device which contains tiny surgical-grade needles that penetrate the top layers of skin without cutting it. This special type of prodding causes wounds to heal in a way that encourages collagen production and improves the contours of certain areas such as the slight depression deep around facial folds and wrinkles. In refreshing your appearance with microneedling, you will look younger with fewer lines while also improving tone, texture, elasticity, firmness and hydration.
When performed in a medical environment with trained medical personnel following current safety processes and protocols, microneedling is generally considered safe. The needle's diameter penetrates only 0.25 to 3mm into the dermis (inner layer of skin), which helps minimise any risk of infection or other health concerns (such as poor healing). During your consultation your physician or specialist will provide you with more information regarding risks associated with the procedure as well as discuss ways to minimise those potential risks; so it is important that you provide honest answers about your health history during this visit so that everyone can make sure this procedure is absolutely safe for you before proceeding ahead.
What is Microneedling?
Microneedling is a minimally invasive technique designed to reduce the appearance of scars, wrinkles and other skin imperfections. It involves the use of tiny, sterile needles to create micro-injuries in the top layers of skin. The injury stimulates collagen production, which helps to fill and heal these areas, resulting in an even complexion.
The most common form of microneedling is done with a device that looks like a pen or roller containing multiple small needles. These needles range from 2-3 mm in length and are changed after each treatment. The process typically causes minimal discomfort but many patients choose to use numbing cream prior to the procedure for added comfort.
Overall, microneedling is considered safe but may not be suitable for everyone. As with any medical procedure, it's important to speak with your doctor about your concerns before deciding if this treatment is right for you. Potential risks associated with this procedure include:
Scarring
Infection
Bleeding at the injection site
Changes in skin pigmentation
Benefits of Microneedling
Microneedling is a minimally invasive skin treatment that involves using a device to create very small punctures in the outer layer of the skin. It can help improve the appearance of wrinkles and acne scars, resulting in smoother and plumper skin. The process also stimulates collagen production, which can make your skin more youthful and reduce signs of ageing.
The advantages of microneedling treatment include:
Improved texture and tone: Your skin will feel smoother, firmer and more even in tone after microneedling since it helps break down scar tissue.
Diminished Appearance of Acne Scars: By breaking down scar tissue, microneedling can help reduce the appearance of acne scars.
Younger Looking Skin: As collagen production is increased, your skin will appear fuller and younger looking.
Stimulated Circulation: Microneedling increases circulation to the face which can give you a natural healthy glow.
Safe for all Skin Types: While some treatments cannot be used on darker complexions, microneedling is safe for all types of skin including sensitive or ethnic skin.
Faster Healing Time: Many people report that their recovery time from procedures such as chemical peels or laser treatments have reduced when combined with regular microneedling sessions compared to when those same procedures are done without benefits from microneedling's collagen stimulation effects.
Risks Involved in Microneedling
Microneedling is a popular cosmetic treatment that has become increasingly popular in recent years. While it is a relatively safe procedure, there are some risks involved. This article will discuss the risks of microneedling and provide tips on how to reduce the chances of experiencing any side effects.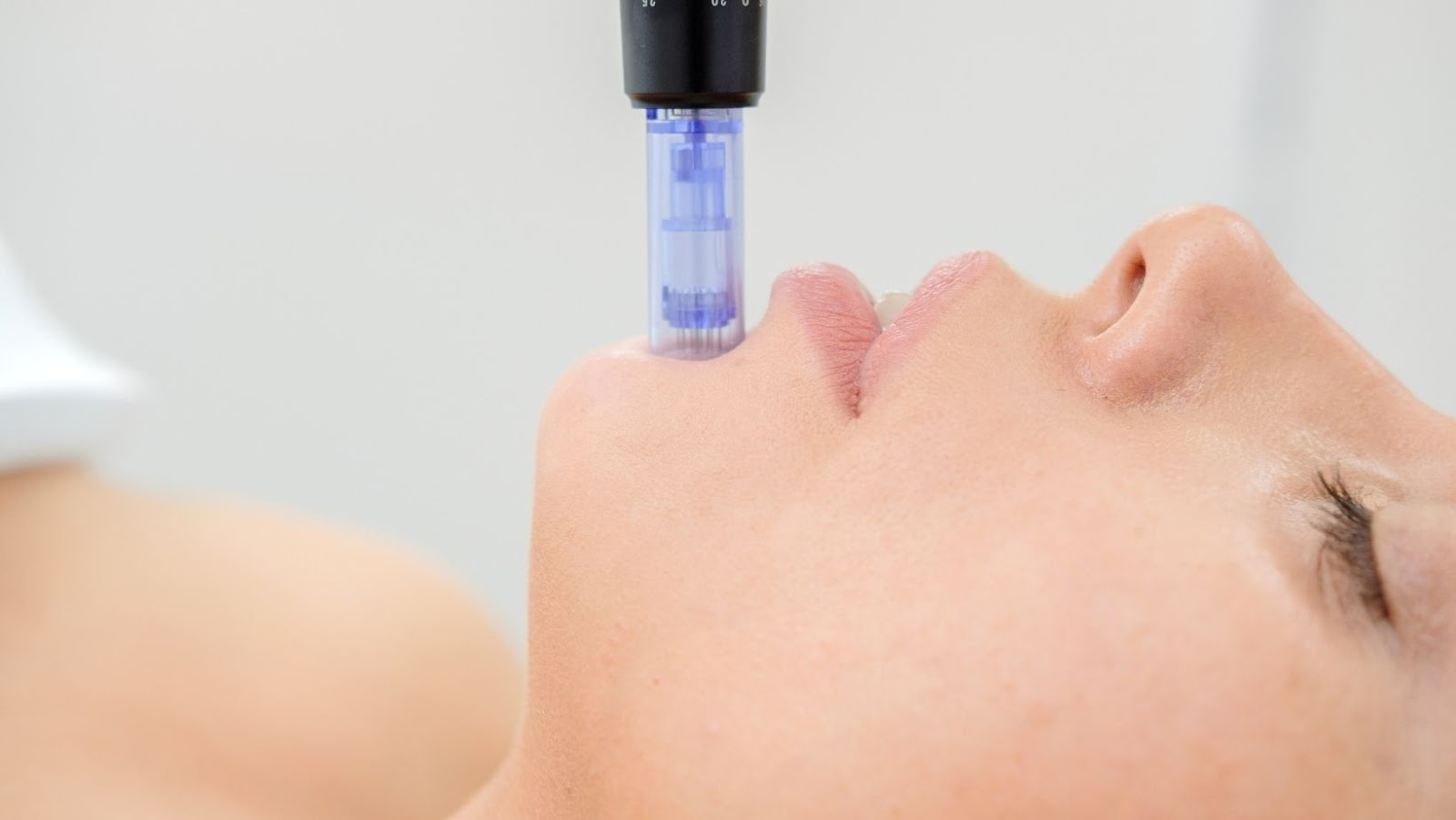 Infection
One of the biggest risks associated with microneedling is infection. During a microneedling treatment, the practitioner pokes hundreds of tiny holes into the skin, which can provide an entry point for bacteria and other infectious agents. Disposable sterile needles are used in most professional salons, but if these needles or any tools are not adequately sterilised or disinfected between treatments, there's a chance of cross-contamination from one client to another.
Another potential source of infection is skin that has not been properly cleansed before the treatment. Dirt and makeup act as barriers preventing needles from penetrating deeply enough to create effective collagen stimulation. These barriers make it more difficult for treated areas to heal properly and can increase the risk of infection. Therefore, it is recommended to thoroughly cleanse your skin before undergoing a microneedling session.
Lastly, everybody's skin responds differently when it comes to invasive procedures like microneedling, even when conducted by well-trained professionals using sterile equipment and cleanliness protocols. Those with sensitive skin may be prone to redness, inflammation, or even infections after their treatment session due to weaker immune systems or conditions like eczema that can disrupt natural skin healing. To reduce the risk of infection and other side effects after your procedure, let your practitioner know if you are prone to sensitive skin reactions before you begin.
Scarring
One of the primary risks associated with microneedling is the potential for scarring. This is most likely to occur in people with darker skin types, particularly when a procedure such as dermabrasion is combined with microneedling. Darker skin types are more prone to forming darker scars and hyperpigmentation following a procedure and should take extra precaution when considering any type of facial alteration. Some forms of treatment may increase this risk, such as deep needling or when the patient has had previous treatments on their face. It's important to discuss any potential risks with your doctor before beginning any course of treatment.
A scar typically takes 6-12 months to heal fully and during that time it may be visible or darken in comparison to the surrounding skin tone. Some people will also experience an itching sensation or redness/pain around the treated area until full healing has taken place. Proper post-treatment care is essential in order to reduce potential complications, so be sure to follow your doctor's instructions closely if you are offered this treatment option.
Allergic Reactions
Allergic reactions are a potential risk of microneedling treatment, though occurrences are rare. Patients may experience symptoms such as swelling, itchiness, and redness of the area. There could also be formation of blisters or lesions on the skin where the microneedling tool has been applied. In extreme circumstances, patients may also become susceptible to infection if proper precautions or recommended recommendations are not followed during the procedure.
It is important to take proper precautions to reduce these risks before and after undergoing microneedling treatments. Consulting with a doctor is recommended beforehand in order to identify any allergies or sensitivity issues that the individual may have to topical treatments such as antibacterial ointments and related products which will be used in conjunction with the procedure. Always follow after-care instructions carefully and do not hesitate to reach out to your doctor if you experience any prolonged post-procedure discomfort or changes in skin tone that couldn't be associated with normal healing processes.
Additionally, never attempt a self-administered microneedling treatment without consulting with a medical professional first; this procedure should only ever be performed by healthcare professionals in medical environments where hygienic standards are strictly adhered to.
Pigment Changes
Pigment changes are one of the most common risks associated with microneedling treatments. As the skin is punctured, it can cause redness and swelling in people with a darker complexion, leading to hyperpigmentation or dark spots that can take months to fade away. Additionally, permanent micropigmentation (tattooing), which is sometimes called "permanent makeup", can be caused by improper laser treatments.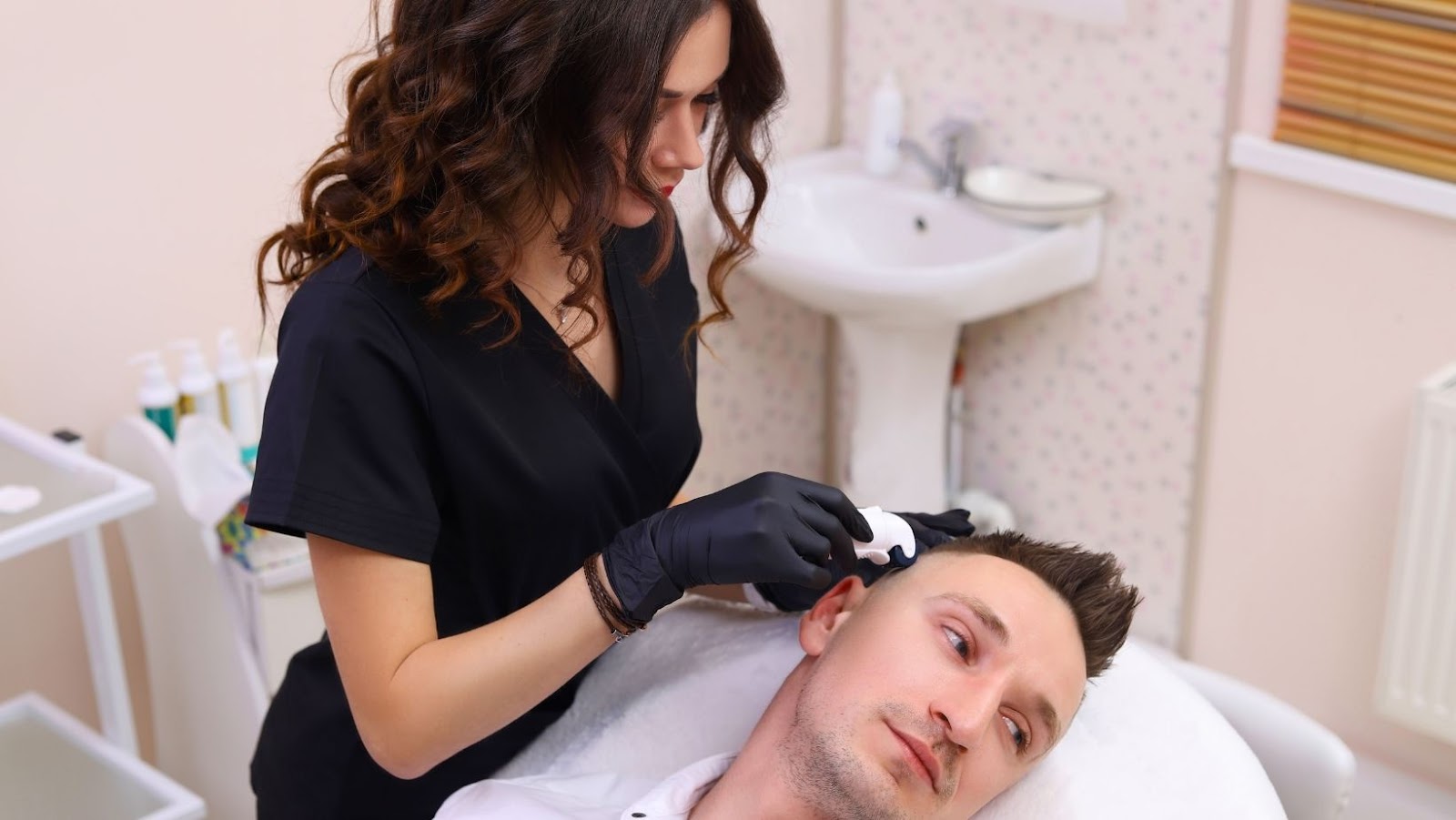 For those looking to enjoy the benefits of microneedling without any of its risks, thorough research should be done before committing to a treatment. It is important to consult a board-certified dermatologist or an aesthetician who has plenty of experience and knowledge in providing safe and effective treatments with minimal side effects. You should also factor in your skin type when seeking treatment as lighter skin tones are often more susceptible to discoloration and broken vessels.
By taking precautions and understanding the possible risks involved, you can ensure your safety while still enjoying the positive results of this revolutionary beauty treatment.
How to Minimise Risks
Microneedling is a popular skin treatment option to help rejuvenate skin, reduce wrinkles and scars, and improve the overall appearance of your skin. While this treatment can be effective and safe, there are certain risks involved. To ensure a safe and successful microneedling treatment, it's important to understand the potential risks, how to minimise them, and how to prepare for treatment.
Cleanliness
Cleanliness is a key factor in minimising risk when undergoing a microneedling treatment. Before the procedure begins, be sure that the area being treated is thoroughly cleaned with an antiseptic. The same should be done after the procedure as well.
It is also important to have all tools used for your microneedling treatment such as needles and/or rollers sterilised or disinfected prior to use and discarded afterwards to prevent potential cross-contamination. Additionally, never share any tools with anyone else, even if they appear sanitised and new.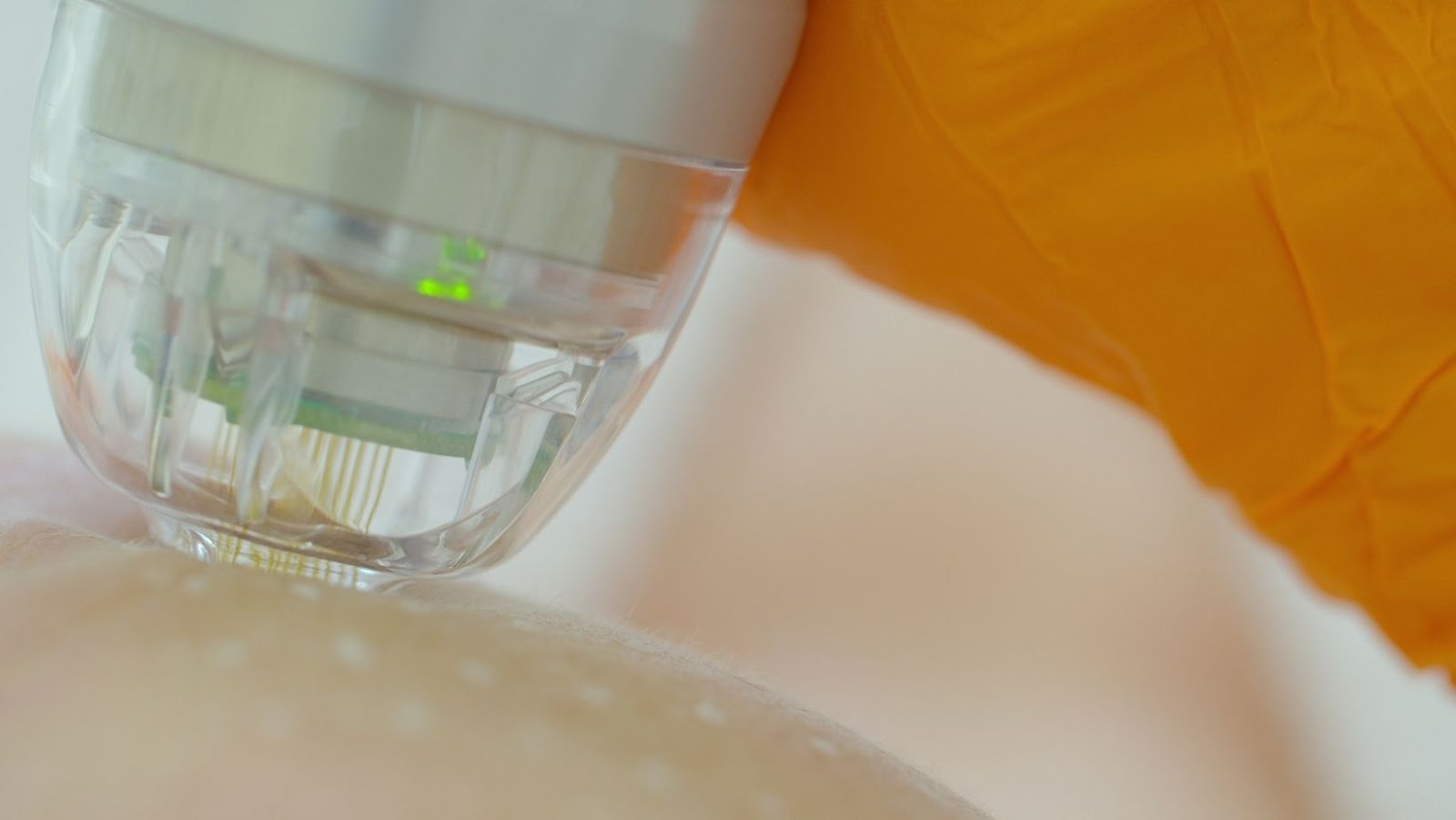 Proper Needle Depth
In order to minimise the risk of any harm associated with a microneedling treatment, it is important to be aware of the proper needle depth. The length of the needles and their penetration into the skin greatly affect both the efficacy and side effects of the treatment.
To ensure that the needles penetrate deeply enough to achieve desired results while avoiding any potential damage, it is important to set your microneedling device to no more than 2-2.5 millimetres deep. This depth opens up channels in the skin for product and serum absorption as well as inducing collagen production without damaging any essential tissue or creating dark spots or persistent discoloration on contact surfaces.
Different treatments have different depths depending on skincare goals and level of expertise being used, so always discuss desired outcomes and needle depths with an experienced aesthetician before undergoing a session. Properly selected needle length also reduces instances of infection, redness, bruising, or discomfort during or after treatment caused by needles piercing too deep into active skin layers where increased risk for infection hides away.
Proper Sterilisation
Proper sterilisation is one of the most important steps to minimise the risks associated with microneedling treatment. Sterilisation should include everything that will come into contact with the patient's skin, such as instruments and needles. Additional sterilisation techniques like one-time use kits are a preferred option in most health care settings.
As part of a microneedling treatment, some medical practitioners elect to inject substances like collagen or Botox into the patient's skin. It is essential that any injected material be packaged for single-time use and are FDA approved, ensuring high quality standards are met to reduce risk of infection and other complications.
The medical practitioner or technician conducting the microneedling treatment should be trained properly on all safety procedures, as well as general knowledge about caring for patients before and after treatments. The practitioner should also have acquired certification from a reputable training program in order to operate this type of equipment safely and minimise any risks associated with treatment procedures.
Conclusion
Overall, microneedling is a safe treatment when performed correctly. It can help minimise wrinkles, acne scars, and other skin imperfections by increasing collagen production and improving the texture and appearance of the skin.
However, it is essential to ensure that you are getting microneedling done from experienced, qualified professionals in order to reduce the risk of any potential side effects. Talk to your doctor or dermatologist before starting a microneedling treatment in order to determine if it is right for you.