The best products to use after dermaplaning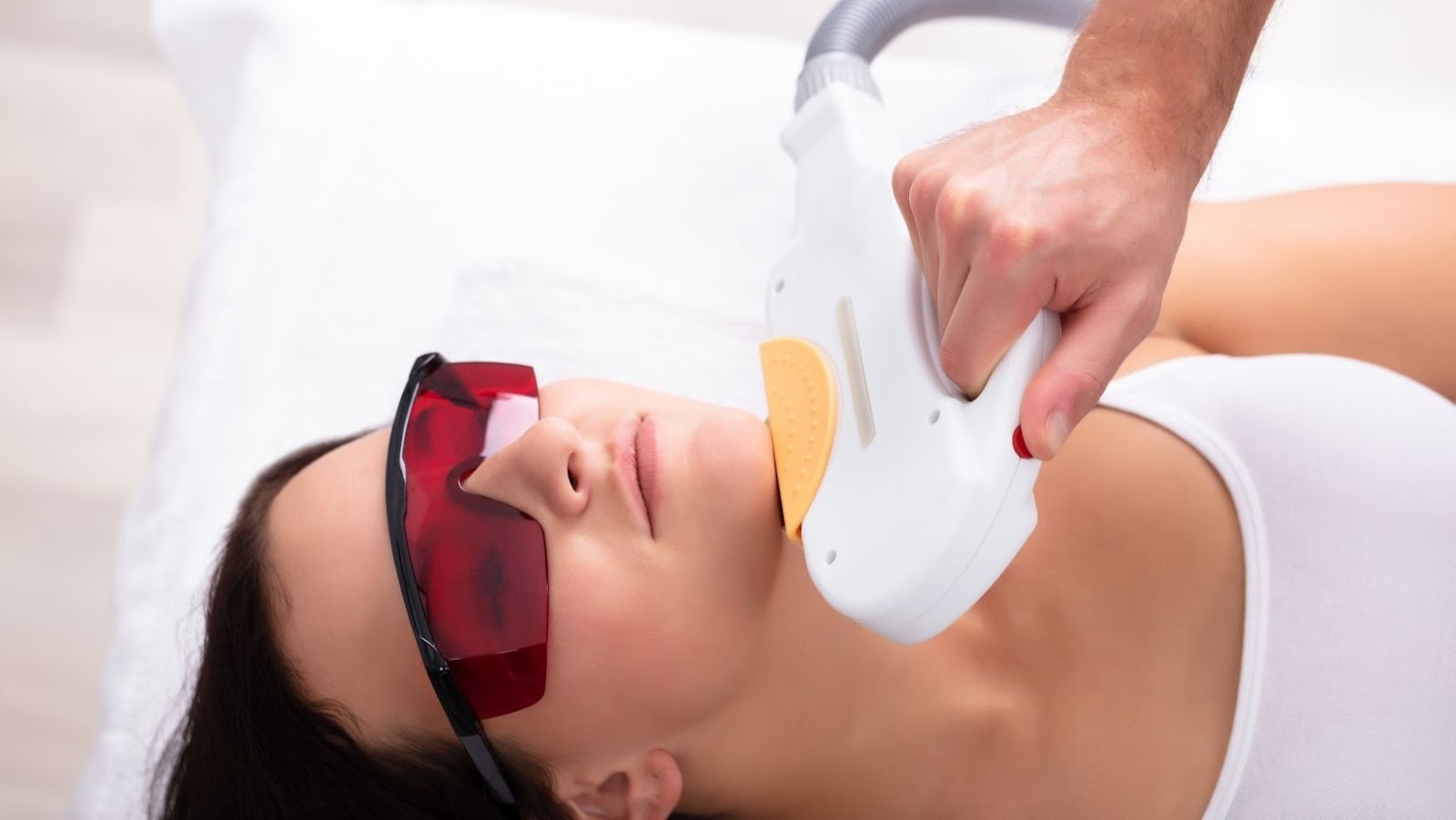 Dermaplaning is a great way to remove dead skin cells, dirt, and bacteria from the surface of your skin. After dermaplaning, it is essential to use the right follow up products to maintain the health of your skin.
In this article, you'll learn about the best products to use after dermaplaning to keep your skin looking beautiful:
What to do after dermaplaning
Cleansers are an essential part of any skincare routine and especially important after dermaplaning. Cleansers should be formulated to restore the skin's pH balance and hydrate without stripping away too much natural oil. It is best to look for products with soothing ingredients like cucumber, chamomile or aloe vera to help reduce inflammation and dryness from the dermaplaning treatment. It is important to note that harsh astringents can irritate the skin, so it is best to avoid those when looking for a cleanser.
Moisturisers should be used immediately after cleansing in order to provide hydration and nourishment throughout the day. A good moisturiser should be tailored specifically for sensitive skin with ingredients known to provide deep hydration and improve the appearance of wrinkles, fine lines and other signs of ageing skin. Look out for key moisturising skincare ingredients such as hyaluronic acid, ceramides and/or peptides that will help your skin fight dryness from the inside out.
Sunscreen is also a necessary follow-up product for use following dermaplaning treatments. Apart from its protection against UV rays, a good sunscreen can also provide additional hydration as well as anti-aging benefits for sensitive areas around the eyes, lips, cheeks and forehead. Be sure to find a sunscreen with broad-spectrum protection that contains antioxidants such as vitamin C or E which offer extra protection from free radicals caused by UVA/UVB rays.
Moisturisers
It is important to use a good quality moisturiser after dermaplaning. Moisturisers help lock in hydration and nutrients for your skin, as well as preventing water loss, which will further enhance the effects of dermaplaning.
Choose a product that is specifically designed to hydrate your skin; look for products containing hyaluronic acid, antioxidants, peptides and ceramides. These powerful ingredients boost moisture levels in the skin and help protect against free radical damage from UV rays. Additionally, many moisturisers contain calming anti-inflammatory ingredients such as chamomile or aloe vera that can help soothe redness or irritation associated with dermaplaning treatments.
It's recommended to apply moisturiser twice daily—directly following your treatment and again later in the day—to make sure your skin stays adequately hydrated.
Sunscreen
Sunscreen is an essential part of any post-dermaplaning routine. After dermaplaning, the top layer of your skin is exposed, making it more vulnerable to sun damage. This can increase the risk of age spots, hyperpigmentation and other blemishes that may have been out of sight when the old layer was still intact. Additionally, with no hair on the face to protect you from UV rays, applying a broad-spectrum sunscreen every day is critical in order to prevent permanent damage.
Make sure that you opt for a product that has at least SPF 30 and provides protection against UVA and UVB rays.
Treatments
Looking for the perfect treatments to use after dermaplaning? Dermaplaning is an effective way to exfoliate your skin and remove dead skin cells, but it is important to follow up with a good post-treatment plan to ensure that your skin is properly cared for.
In this article, you'll find out what treatments can be used to help you get the best results from your dermaplaning session:
Retinol
If you are looking for a product that will help reduce the appearance of fine lines and wrinkles, encourage collagen production, and even out skin tone, retinol is an ideal choice to use after dermaplaning. Retinol, a form of Vitamin A, works by stimulating skin cell turnover and creating a protective barrier against external pollutants. Using it after dermaplaning can help unclog pores and revitalise dull skin, resulting in healthy and smoother-looking skin.
Retinol products usually come in the form of creams or oils that can be applied directly to the face at night before bed. For those with sensitive skin types or for beginners using retinol for the first time, starting with weaker concentrations to allow your skin time to adjust is recommended. Always be sure to check labels carefully when choosing a product as there are often varying strengths and this should be taken into consideration depending on the sensitivity of your skin type. Additionally, if you do develop redness or irritation while using retinol products it is advisable to discontinue use right away.
Hyaluronic acid
Hyaluronic acid is a substance naturally present in the human body. It acts as a lubricant and is a major component of the skin's connective tissues. Hyaluronic acid has also been used for a variety of medical purposes since the 1960s. Its most popular use today is for moisturising, brightening and hydrating the skin, especially around the eyes or other facial areas that may have been recently shaved using dermaplaning methods.
Hyaluronic acid attracts moisture from the environment and binds it to the skin, helping to plump up lines and wrinkles while keeping your skin hydrated and smooth. Hyaluronic acid can also help with skin repair, cell growth, and collagen production all while plumping up wrinkled skin, thereby achieving smoother and softer appearances to the area. Hyaluronic acid helps increase water absorption abilities in all layers of your skin so that you won't have to worry about dehydration or irritation after dermaplaning.
Using products containing hyaluronic acid after dermaplaning allows for continued hydration of newly shaven areas as well as underlying layers of your complexion, providing more immediate benefits compared with other treatments that require several weeks of application before seeing significant results. Hyaluronate based products are highly recommended following dermaplaning to ensure complete hydration that locks in nutrition deep beneath your freshly shaven layer for maximum effectiveness in terms of brightening uneven tones as well as plugging away at wrinkles on either face or neck affected by shaving techniques.
Vitamin C
Vitamin C is an effective skin-care ingredient recommended by dermatologists as one of the best options for rebuilding collagen after dermaplaning. Vitamin C serums are typically applied in the morning, as they help to protect skin from environmental damage and stimulate collagen production.
Look for a serum that contains both vitamin C and hyaluronic acid, which helps to increase moisture retention and bring balance back to skin. Antioxidants, like green tea extract or pomegranate extract are also beneficial in restoring skin's natural healthy functions after dermaplaning.
At-Home Dermaplaning Aftercare
Dermaplaning is a great way to make your skin look smoother and brighter. However, it is important to take proper care of your skin after dermaplaning so you can maximise the results. Our guide will provide you with tips on what to do after dermaplaning and the best products to use for long-term results.
Use gentle cleansers
In the 24-48 hours after dermaplaning it is important to use gentle cleansers, such as a gel or foaming cleanser designed for sensitive skin, to ensure that you don't cause irritation. Avoid using scrubs, exfoliants, or other skin care products labelled as "deep cleansing" as these can be too harsh on your newly exfoliated skin. Cleansing twice a day can help protect and rehydrate the skin while preventing bacteria and dirt from clogging your pores.
Also avoid any hot water or steam for at least 12 hours after dermaplaning – hot water can irritate freshly exposed layers of the skin. In fact, try to use lukewarm water when washing your face in general.
The mildest detergents are preferred during this healing period as well – harsh soaps and detergents will also irritate your skin further. Look for soaps that contain natural ingredients such as chamomile extract or aloe vera to help reduce redness and inflammation caused by the treatment. When in doubt look for skincare products specifically labelled "for sensitive skin" and follow the instructions provided with the product to maximise results.
Avoid any harsh exfoliants
Your skin may be slightly sensitive for about two weeks after dermaplaning, so avoid any harsh exfoliants, aggressive cleansing and chemical peels during that time. Your skin may also be more susceptible to the sun's UV rays. Be sure to wear a broad-spectrum SPF moisturiser with at least an SPF 30 during this period.
In addition, we recommend avoiding anything that contains alpha hydroxy acids (AHAs) like glycolic acid or beta hydroxy acids (BHAs) like salicylic acid. BHAs are particularly powerful exfoliants which can irritate our freshly dermaplane skin – consult your doctor or skincare specialist before implementing any new products into your skincare routine after dermaplaning at-home.
The best thing you can do for your skin following a dermaplane is stay hydrated and provide the necessary protection it needs with antioxidants, vitamins and proper hydration. Some post-dermaplaning care recommendations include:
Look for mild cleansers that won't strip skin of its natural oils post-treatment; opt for gentle, fragrance free facial washes in order to keep the skin clean without overdoing it.
Implement potent antioxidants into your routine – Vitamin C serums infused with ferulic acid are always a good idea; they help to reduce inflammation while brightening our complexion back up!
Keep your moisturiser in rotation–hydration comes at a premium when we don't have the little facial hairs trapping our moisture right beneath the surface! Use a hydrating night cream following the procedure in order to speed up healing time and reduce inflammation quickly; opt for products formulated with hyaluronic acid or ceramides as key ingredients in order to provide extra moisture safely without overcompensating.
Consider using mineral sunscreens following treatment – mineral based SPF provides protection from both UVA & UVB rays while remaining gentle on treated areas!
Apply moisturisers
After you have finished dermaplaning your skin, it is essential to properly hydrate and replenish the moisture levels in your skin. Ideally, you should apply a moisturiser that is specifically designed for post-dermaplaning use. Look for ingredients like hyaluronic acid, ceramides and shea butter which all can help soothe, hydrate and heal the skin quickly after this procedure. Make sure to avoid any thick creams as this will clog up pores and make them prone to breakouts – instead opt for a lightweight and cooling moisturiser. Make sure to gently pat the product on as opposed to rubbing it in order to further reduce irritation.
Additionally, application of an antioxidant serum afterwards can help protect your newly exposed skin from free radical damage caused by environmental stressors such as UV light and air pollution.
Professional Dermaplaning Aftercare
Dermaplaning is an increasingly popular exfoliation technique that can help you get smooth, glowing skin. After the procedure, it is important to take proper aftercare in order to maintain those results. In this article, we will be discussing some of the best professional products to use after dermaplaning. So let's get into it.
Follow your provider's instructions
After getting professional dermaplaning, it's important that you follow your provider's instructions for aftercare. Depending on your skin type, you may have been prescribed a special moisturiser or cleanser for use after the procedure. Generally, it's important to cleanse and moisturise the skin within 24 hours of the procedure; also wear sunscreen every day afterwards to prevent sun damage and reduce soreness or redness from post-treatment inflammation.
It is also important to keep away from harsh exfoliants and products with alcohol during this period, as they can trigger sensitivity in freshly dermaplane skin. Additionally, be sure to wait until any redness subsides before using products containing retinol or alpha hydroxy acids (AHAs), as these can cause further drying or peeling.
Finally, to maximise benefits of a dermaplaning treatment, consider incorporating light resurfacing treatments such as soft chemical peels into your skincare regimen (with doctor's approval). This will further help brighten complexion, minimise acne scarring and reduce the appearance of hyperpigmentation over time.
Avoid direct sun exposure
In order to help keep skin looking smooth and preserve the benefits you received from your professional dermaplaning appointment, it is important to protect your skin from direct sun exposure whenever possible. Sunburn not only causes damage to the skin, but can also cause future premature ageing of the skin if not properly protected.
Sunscreen of at least 30 SPF should be applied every day, whether you are heading outdoors or not. Additionally, thoughtful clothing choices such as hats and sunglasses can also help shield your face from the sun's rays. After a dermaplaning treatment, it is especially important to avoid direct sun exposure until your skin has fully healed in order for you to gain the full benefit of this rejuvenating procedure.
Immediately following a professional dermaplaning appointment, sunscreen with a mineral-based zinc oxide or titanium dioxide as its active ingredients is recommended. The American Society for Dermatologic Surgery recommends that consumers choose mineral-based zinc oxide or titanium dioxide because they do not penetrate into deeper layers of the epidermis and can provide better protective coverage than chemical-based sunscreens or spray on agents. Additionally, non-comedogenic products are recommended as post treatment aftercare as well; these products help keep pores free from clogging oils and can help minimise breakouts that may occur during healing times for many people.
Use a broad-spectrum sunscreen
It is always important to protect your skin from the sun's potent UV rays. This is even more important after a dermaplaning treatment. Dermaplaning can leave your skin more vulnerable to damage from the sun, so make sure you use a broad-spectrum sunscreen with an SPF of 30 or higher every day. Look for ingredients such as zinc oxide and titanium dioxide, which provide protective coverage against both UVA and UVB rays.
For extra protection, you may also want to wear a wide-brimmed hat when outdoors as well as sunglasses to help shield your face from the sun's intense rays. Additionally, avoid spending long periods of time in direct sunlight and seek shade whenever possible.
Lifestyle Changes
When you have recently gone through a dermaplaning procedure, it is important to make some lifestyle changes to earn the best possible results. You should be mindful of the products you use on your skin and also the activities you do following your dermaplaning treatment.
Here, we will take a look at some of the best products to use and the activities you should participate in to ensure your skin remains looking its best:
Stay hydrated
It is a good idea to stay well-hydrated after dermaplaning, as this can help maintain the skin's moisture and elasticity. Drinking plenty of water is the best way to do this, but it can be difficult to get enough on any given day. To supplement your natural intake, try using products with hydrating ingredients, such as aloe vera, glycerin, and sodium hyaluronate (hyaluronic acid).
Applying a moisturiser or serum with these active ingredients every morning and night will help lock in the moisture in your skin and help keep it healthy. A high SPF sunscreen should also be used every day to prevent sun damage and further dehydration.
Avoid smoking
Smoking decreases the elasticity of your skin and increases your chances of premature wrinkles. It also hinders the skin's natural healing process. After dermaplaning, it is important to refrain from smoking so that your skin can heal faster and reap the full benefits of dermaplaning. Additionally, it is important to avoid exposure to second-hand cigarette smoke as this has a similar effect.
By not smoking, you can help keep pores tight, reduce wrinkles and help maintain healthy blood circulation in your face. It is important to reduce alcohol intake as well as too much alcohol can cause dehydration which can lead to dull looking skin after dermaplaning.
Eat a balanced diet
Making healthy lifestyle changes is key to maintaining the long-term benefits of dermaplaning. Eating a nutritious diet with a variety of fruits, vegetables and proteins can help to reduce inflammation and provide essential vitamins and minerals for optimal skin health. Additionally, try to minimise foods high in sugar and fats, as these can lead to excessive dryness, inflammation and rashes.
Nutritional supplements should not replace proper nutrition but rather help to compliment a balanced diet. Look for products specifically tailored to your skin needs such as omega-3 fatty acids, probiotics, antioxidants or vitamin A (tocopherols). While available over-the-counter, talking with a healthcare professional about the best products for you may be more beneficial in the long run.
Keeping skin hydrated is also extremely important post-dermaplaning as it helps new cells regenerate faster and smooth out rough patches. Use gentle cleansers that won't strip away valuable moisture from your skin and incorporate moisturisers with hyaluronic acid or glycerin into your daily routine. Apply sunscreen of at least SPF 30 daily – even when you are inside – to protect your delicate face from UV radiation damage.