How do digital pharmacies compare to traditional pharmacies?
This article will discuss the similarities and differences between traditional and digital pharmacies filling orders online. We will explore how digital pharmacies, such as CVS and Walgreens, fill orders and compare that to the process of traditional pharmacies.
We'll also discuss the advantages and disadvantages of each type of pharmacy.
Definition of digital pharmacies
Digital pharmacies, often referred to as online pharmacies, are pharmacies that offer services and products for sale via an online platform. They differ from traditional pharmacies because they do not have a physical storefront. Digital pharmacies often have an expansive selection of products, including over-the-counter and prescription drugs, health supplements, vitamins, and other personal care and beauty items. Additionally, many digital pharmacies offer free shipping directly to their customers' homes or businesses.
Digital pharmacies offer many advantages over traditional brick-and-mortar locations. These include improved customer convenience and savings on overhead costs associated with running a traditional pharmacy. The lack of a physical storefront means digital pharmacy customers can purchase their medications quickly and easily with minimal hassle. Furthermore, purchasing medications through digital pharmacies can often result in discounts compared to buying the same product at a traditional pharmacy because digital stores have lower overhead costs. Lastly, digital pharmacies provide enhanced customer service features like consultations from licensed pharmacists and live chat support available 24/7 for customer inquiries or concerns about medication use or purchases.
Digital Pharmacies Filling Orders Online Go After CVS, Walgreens
In recent years, digital pharmacies have been making waves in the industry, with more and more people filling their prescriptions online. Digital pharmacies have been gaining popularity compared to traditional pharmacies, such as CVS and Walgreens. It can be difficult to compare the two, so let's dive into the pros and cons of using digital pharmacies vs. traditional pharmacies to help better decide which one can better suit one's needs.
Overview of traditional pharmacies
Traditional pharmacies are characterised by operating both physical and online stores, offering convenient access to prescription drugs. Customers will find a licensed pharmacist or staff members knowledgeable about medications and can offer advice on taking prescriptions properly.
Customers typically go to a traditional pharmacy in person or present a prescription at the counter. Pharmacy staff transfer prescriptions from doctors and scan them electronically into the patient's records. Once the prescription is filled, customers check out with cash, credit card, debit card or other approved payment methods. It is also possible for customers to order through mail-order pharmacies that store customer profiles securely and can be easily renewed each time an order is made.
Traditional pharmacies have many advantages over digital pharmacies, including more personalised customer service from pharmacists who have individualised knowledge about their customers' medical histories; potential for automated refilling of prescriptions; often lower prices for patients that does not carry additional posting charges; large inventory of medications and other items necessary for health care; and specialised services such as compounding medications ( customising medicines ).
Overview of digital pharmacies
Digital pharmacies are a quick and convenient way to purchase medications, often without ever setting foot inside a traditional pharmacy. With digital pharmacies, customers complete the purchase of their prescription medication online, or via a mobile application. In addition, digital pharmacies offer consumers various services, including automated refills, delivery to their desired address, pharmacy counselling and mobile reminders for taking the medicines customers have ordered.
Digital pharmacies provide many advantages over traditional brick-and-mortar pharmacies in terms of convenience and cost. There are no long lines or waiting times at the digital pharmacy. Customers can order medicines from the comfort of their home and receive them in just a few days or even hours. This saves time compared to visiting a physical store and waiting with other customers to fill your medications.
Privacy is another key advantage digital pharmacies offer over physical stores: customers' confidential information is kept private online, unlike brick-and-mortar locations where anyone could overhear sensitive medical matters being discussed at the counter. Furthermore, digital pharmacies may not require healthcare insurance for customers and could provide additional discounts depending on the customer's payment method (ie credit card/debit card). Additionally, depending on the service provider some digital pharmacy services may allow users to access discount drug programs helping them save more money while still receiving top quality medicines they need in case of illness or injury.
Differences in services
One of the key differences between digital pharmacies and traditional brick-and-mortar stores is the services they offer. Many of the newer digital pharmacies offer more convenience than most traditional stores. This includes home delivery, flexible ordering, telemedicine services, and increased availability and convenience through online store fronts compared to physical store fronts.
Traditional drug stores offer more face-to-face interaction with a professional pharmacist in addition to retail pharmacy services such as filling prescriptions, monitoring patients' medication histories, providing immunizations and over-the-counter medication counselling. These activities provide customers with an opportunity for any additional questions or concerns about their prescriptions before taking them. In addition, customers can often purchase items from their local pharmacy unrelated to medications such as food items or first aid products.
Another difference between digital pharmacies and traditional stores is the ability for insurance coverage being accepted by each type of pharmacy service. Digital pharmacies may accept various health insurance plans but generally do not accept programs such as employer healthcare plans or Medicare/Medicaid reimbursement depending on the state laws where these services are offered. For example, some states may require that traditional drugstores have their accredited pharmacists. In contrast, a digital pharmacy based out of another state will have difficulty accepting these plans due to lack of this licensing requirement. Traditional stores are more likely to accept all payment options because they typically have other means such as personal checks or cash when online services fail at payment processing due to technical issues or interconnectivity between multiple platforms involved in the transaction process.
Differences in pricing
When considering a digital pharmacy as an alternative to traditional pharmacies, it's important to consider both the convenience of digital services and the differences in pricing. One of the key benefits of digital pharmacies is pricing. Digital pharmacies tend to have lower prices on both prescriptions and over-the-counter drugs than traditional pharmacies due to their cost savings from having no physical location, no personnel, and for certain products, smaller markup fees. For example, you may find that basic generics are up to 25% cheaper through a digital pharmacy than at a traditional pharmacy.
However, this does not hold for all medications — particularly those with a higher markup or specialty drugs — or for all medications, such as vitamins or supplements. In addition, traditional pharmacies typically carry a broader selection than digital pharmacies because they usually require a physical inventory and provide more personal service to their customers in areas such as drug information and consultations. As a result, many consumers are willing to pay more for their medications when using a conventional retailer despite potential savings available through purchasing online via subscription or one-time purchases with various discounts or coupon codes.
Differences in convenience
One of the significant differences in digital and traditional pharmacies is convenience. Digital pharmacies offer convenient, secure, fast access to various medications and healthcare products. They enable customers to purchase drugs with a button or tap on their smartphone. Delivery of medicines can take place within 24 hours in certain cases and customers have the added convenience of being able to track their orders at any time. QR codes have become an integral part of the customer experience in digital pharmacies, enhancing convenience and efficiency for all parties involved. This innovative technology allows users to swiftly retrieve dosage instructions, potential side effects, and important precautions, empowering them to make informed decisions about their healthcare. Furthermore, pharmacies have embraced the use of QR codes to streamline their operations, enabling quick and accurate retrieval of medication details, reducing errors, and improving overall customer satisfaction.  Additionally, digital pharmacies often have comprehensive search features that enable customers to quickly find their desired medication or item based on brand name, active ingredient, drug class, condition/illness being treated, or therapeutic indications.
In contrast, traditional pharmacies require customers to physically visit the pharmacy and wait in line while a pharmacist fills their prescription. In addition, customers who present prescriptions from different medical practitioners may be required to provide additional information like medical histories before they are issued medicine. The process can take up several hours depending on the store's workload for the day. Moreover, it may be difficult for customers who live in remote areas to access a traditional pharmacy since many physical outlets are concentrated in only urban centres with high populations.
Digital Pharmacies vs. Traditional Pharmacies: Pros and Cons
Digital pharmacies are gaining in popularity as a way to fill prescriptions online and save time for consumers. Digital pharmacies offer convenience, cost savings, and quicker access to medications.
However, traditional pharmacies such as CVS and Walgreens still have some advantages over digital pharmacies. In this article, we'll compare digital pharmacies to traditional pharmacies and discuss the pros and cons of each.
Pros of digital pharmacies
Digital pharmacies, also known as online or internet pharmacies, have become increasingly popular alternatives to traditional pharmacies over the last few years. From enhanced convenience to cost savings, a variety of potential benefits are associated with using a digital pharmacy.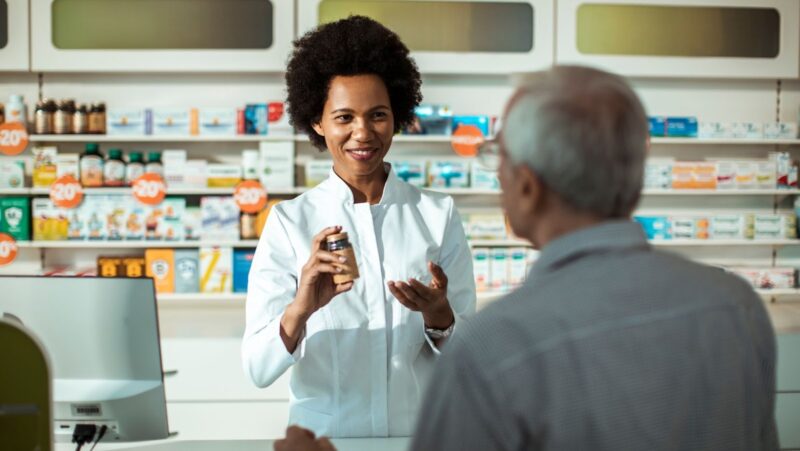 Convenience: One of the biggest advantages to using digital pharmacies is convenience. Customers can order prescription medications without leaving home, and many digital pharmacies allow them to order refills and track their orders online. Additionally, prescriptions can often be delivered quickly and efficiently directly to a customer's door via mail or courier services.
Cost Savings: Digital pharmacies offer competitive prices for medications compared to brick-and-mortar pharmacies due in part to their innovative business models designed to reduce overhead costs and pass savings onto customers. However, it's important to note that cost should not be the only factor when deciding on regards pharmacy choice–it's advisable for customers to also consider factors such as customer service and quality control in making their decision.
Time Savings: Digital pharmacies allow customers to easily compare medication prices online while checking for possible side effects associated with different medications without having to visit multiple physical locations. This comparison process can save time and make it easier for customers who may have multiple prescriptions or need assistance to decide which medication is best for them. Additionally, some digital pharmacies offer automatic refill management which can save time alongside cost by removing the worry of remembering when certain medications need refilling again.
Cons of digital pharmacies
Digital pharmacies are becoming increasingly popular with many people not only wanting to save time and money, but also wanting the convenience of the internet. However, even though digital pharmacies have advantages and offer various benefits, it is important to note that they have some drawbacks.
Below is a list of cons associated with digital pharmacies compared to traditional ones:
Limited access to medicines and products. Digital pharmacies do not offer a wide selection of available medications as traditional stores as many companies have agreements with physical stores for exclusive distribution. This could mean patients may not be able to get their medications without visiting more than one online pharmacy.
Longer wait times for medicines and products. Digital pharmacies usually require customers to order their medications online, then wait 3-7 days or more before they can receive them – depending on the delivery system they choose. In comparison, traditional pharmacies usually hold medications in stock so customers can purchase them on the spot or arrange pick up or delivery within 24 hours of ordering.
Decreased human interaction. It is much harder (or impossible) for customers to discuss their health concerns with a pharmacist when making an online purchase at a digital pharmacy versus in person at a brick-and-mortar store where pharmacists provide personalised advice and recommendations tailored specifically for each customer's needs and concerns. Patients cannot rely solely on these pharmacies for reliable health advice without consulting other trusted healthcare sources such as doctors or nurses.
Pros of traditional pharmacies
Traditional pharmacies offer a range of advantages that digital pharmacies can't match. Here are some of the major pros of traditional pharmacies:
Convenience: Traditional pharmacies are typically located in convenient neighbourhoods and often stay open until late at night or on weekends, making them ideal for picking up drugs fast or close to closing time.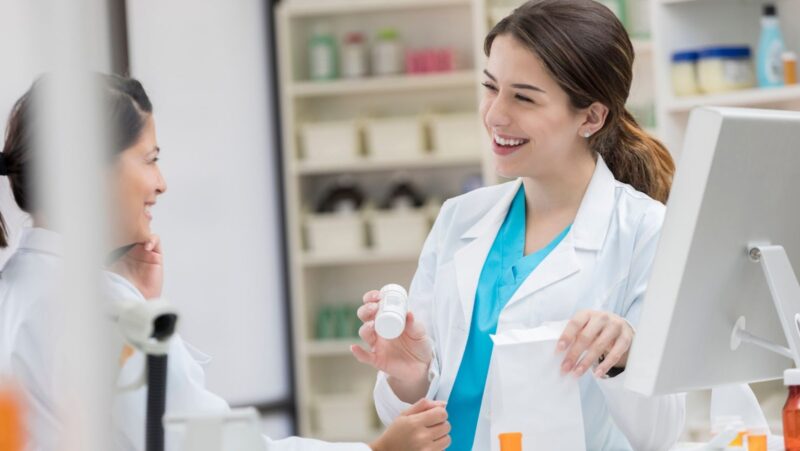 Reliability: Traditional pharmacies are well-stocked with various prescription and over-the-counter medications, meaning there's a good chance that they'll have what you need. Additionally, pharmacists are on hand and can help you find exactly what you need for your specific situation.
One-on-one support: With traditional pharmacies, patients benefit from face-to-face interactions with pharmacists who can provide advice and answer medication-related questions. This is especially helpful for those taking multiple or specialised medications due to chronic health issues.
Pharmacy benefits management: Many traditional pharmacy locations participate in pharmacy benefits management (PBM) programs, which allow them to negotiate discounts with drug companies on behalf of patients who belong to the PBM. This means pharmaceuticals will cost less out of pocket at traditional pharmacy locations than digital ones.
Cons of traditional pharmacies
Traditional pharmacies have been an integral part of consumer health care for decades. However, there are several disadvantages to using a traditional pharmacy vs. a digital one.
One key disadvantage is accessibility. With a traditional pharmacy, the consumer is restricted to the regular opening hours, meaning an inability to access needed medication when required outside of those hours. Furthermore, accessing a physical pharmacy in more rural areas may be difficult due to distances or lack of nearby pharmacies. Digital pharmacies, on the other hand, are open 24/7 meaning medication can be accessed at any time of the day or night and from anywhere with an internet connection and device.
Another disadvantage is the cost associated with traditional pharmacies versus digital ones. Traditional pharmacies commonly require insurance information prior to dispensing medication which adds further costs associated with administrative paperwork and co-payments. Furthermore they often require larger monthly payments due to their limited choice of medications available. In contrast, digital pharmacies offer significantly lower prices due to their greater selection and access to coupons and discounts online making expensive medications more affordable for consumers who do not have insurance coverage or who carry higher prescription drug deductibles than what traditional pharmacies offer.
Finally, most traditional pharmacies do not have patient support services such as medication reminders for refills or offering guidance on starting specific treatments; this means that potentially important treatment information can go unnoticed by consumers – something which would not occur in most digital-pharmacies which place consumer education as one of their core values by providing detailed information about different drugs including indications, possible side effects and interactions with other medications being taken by the consumer along with medical advice from qualified medical professionals through online consultations available at anytime day or night.
How Digital Pharmacies are Going After CVS and Walgreens
In recent years, the advent of digital pharmacies has caused a shift in how people fill their orders online and how they view traditional drug stores like CVS and Walgreens.
Many digital pharmacies now offer cheaper and faster alternatives to the services these brick-and-mortar stores provide, disrupting the industry.
In this article, we will be exploring how digital pharmacies are going after CVS and Walgreens.
Expansion of digital pharmacy services
In recent years, the pharmaceutical industry has seen major shifts with the emergence of digital pharmacies. By taking advantage of online resources, digital pharmacies can offer customers a wider selection of medications and services than traditional pharmacies. This expansion of services does not just mean a larger catalogue of available medications. Still, it provides access to more specialised products such as compounded medicines, over-the-counter drugs, health & beauty products, travel vaccines and pet medications. In addition, digital pharmacies offer home delivery or a pickup option from their owned brick-and-mortar stores.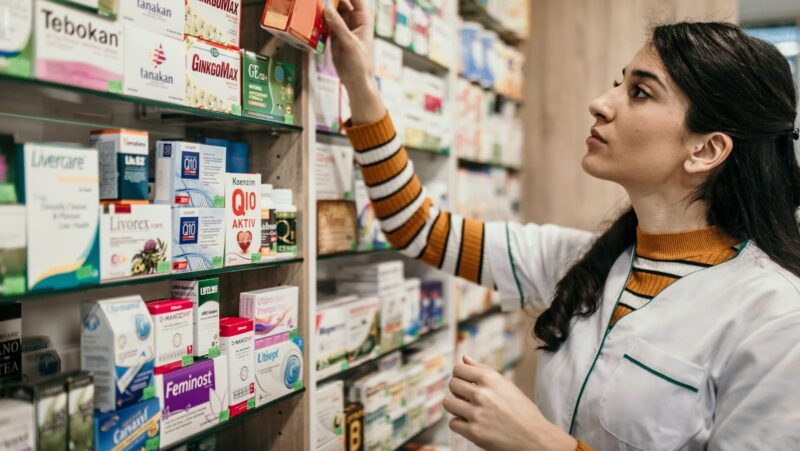 In addition to their online pharmacy platforms, digital pharmacies are offering innovative healthcare management services such as medication synchronisation with personal reminders and automatic refills. These extra services help make it easier for consumers to manage their medications more efficiently by reducing forgotten doses and expired prescriptions. Furthermore, most digital pharmacies offer price transparency so customers can compare prices and receive generic alternatives below market rates. With low subscription fees for additional services such as medication adherence programs and patient support programs these companies have found success in taking on established drugstore chains such as CVS and Walgreens.
Though operating on different business models from these traditional enterprises, digital pharmacies indicate the overall improvement in access to healthcare services that technology brings about in many industries.
Targeting CVS and Walgreens customers
CVS and Walgreens, two long-time giants of the pharmacy business are facing increasing competition from digital pharmacies and mail-order delivery services. Digital pharmacies, such as PillPack, offer the convenience of mobile apps and websites for ordering prescriptions, refills, and delivery to your doorstep. Customers can have their prescriptions fulfilled directly from their doctor's offices or various mail order delivery services. The convenience alone makes this type of service appealing to many consumers who don't want to make multiple trips for each prescription or wait in long lines at a pharmacy.
Digital pharmacies have aimed at the pricing system large chains like CVS and Walgreens use. Most digital pharmacies don't require copays or deductibles when delivering medications directly to customers' homes. They often give generous discounts on generics that may be more attractive than traditional pharmacy pricing models. Additionally, they offer better patient accessibility with helpful tools like auto-refill agreements that make it easier for patients to stay up-to-date on their medications without having to constantly remember when they need to order new meds or head over to a brick & mortar store.
Furthermore, unlike traditional brick & mortar stores, digital pharmacies provide greater personalization for each patient through mobile apps and websites where those patients can keep track of their current medications and any potential side effects after taking those drugs. This is particularly important when multiple doctors prescribe treatments for the same illness. Coordinating all those prescriptions with one another can be overwhelming without proper tools like app reminders or automated notifications when it's time for a refill.
Though they require acceptance by drugstore chains and other factors depending upon geographical locales – such as state licensing requirements – digital pharmacies still offer customers more affordable options than either CVS or Walgreens out of the gate (no co-pays/deductibles). As such, it can be argued that platforms like PillPack will eventually make solid encroachment into traditional drugstore territory in terms of both customer service offerings and cost savings potentials over time if not challenged sooner rather than later by industry incumbents looking to remain competitively intact amidst innovation shifts within consumer needs towards streamlined access via varied mobile use adventures whenever possible.
Strategies for marketing digital pharmacy services
Digital pharmacies offer convenience and cost savings over traditional retail pharmacy networks, as they can deliver medications to one's home anytime. However, digital pharmacies also face competition from larger pharmacy networks such as CVS and Walgreens, who have established their own retail presence and have become a staple of communities everywhere. To compete in a crowded market, digital pharmacies must employ strategies to differentiate themselves from their established competitors.
One way in which online pharmacies can differentiate themselves is through customer focused marketing campaigns that emphasise convenience, quality products and services, cost effectiveness, and personalised customer support. For example, services such AskMyPharmacist allow customers to consult with certified pharmacists through video conferencing or live chat options while avoiding expensive visits to traditional brick-and-mortar locations. Additionally, some digital pharmacies offer promotional discounts on medications or a subscription service that allow customers to receive savings (like Amazon Prime). Additionally, many digital pharmacies are expanding their offerings beyond just prescription drugs by offering non-prescription products like over-the-counter medicines and vitamins as well as medical supplies for diabetes care or wound dressing materials for home care.
By delivering tailored services that customers cannot find elsewhere – coupled with strong reputability – online pharmacies can market their products effectively against traditional retailers like CVS and Walgreens. While it remains to be seen how successful the growth of these digital companies will be in the long term due to changing regulations surrounding pharmaceuticals and health related products, one thing is certain: innovating strategies utilising technology are helping these companies remain competitive against established players like CVS and Walgreens in an increasingly competitive landscape.
tags = New York City-based Medly Pharmacy, Chirag Kulkarni, Medly co-founder and chief marketing officer, Silicon Valley startup NowRx, Breese, co-founder and CEO of NowRx, told Fierce Healthcare, CVS Pharmacy is testing self-driving vehicles for medication delivery, Taking on pharmacy giants, Truepill raised $25 million, Investors double down on health technology as funding reaches $9.1B in 2020, capsule medly 650m cvs walgreenslavitobloomberg, how capsule medly 650m walgreenslavitobloomberg